How to Buy Short Term Bonds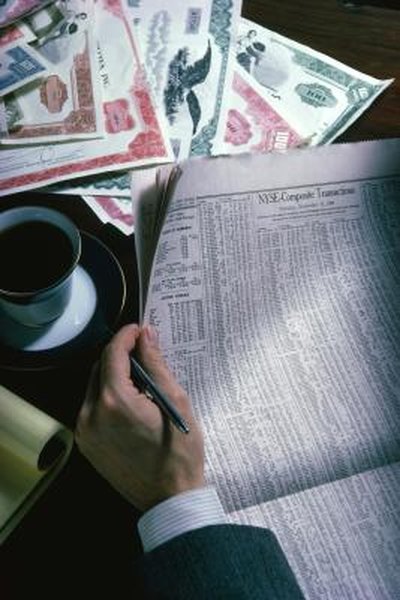 With all of the investment products available to you, it can be confusing when you try to decide which ones to put in your portfolio. The U.S. Securities and Exchange Commission recommends having a mix of equity and debt securities along with a portion of your investments in cash and cash equivalents. Within each of these broad categories, you still have plenty of choices. For example, you should include a mix of long-term, intermediate-term and short-term bonds in your portfolio. When it comes time to make your short-term bond purchases, you have a number of options.
Step

1
Determine the type of short-term bond that best fits your investment objectives. There are three primary types of short-term bonds: government bonds, municipal bonds and corporate bonds. Each type has specific benefits and risks. For example, U.S. government bonds offer excellent safety and security because they are backed by the full faith and credit of the U.S. government, but the interest rate is typically lower than other short-term bonds. Short-term corporate bonds pay the highest interest, but that interest is fully taxable at the state, local and federal level. Short-term municipal bonds offer interest that is exempt from federal income taxes, but the interest rate is lower than that offered by comparable corporate bonds.
Step

2
Research the price and quality of the short-term bonds you are interested in buying. You can find prices and yields for short-term U.S. Treasury securities on the government's TreasuryDirect.gov website. Current prices for short-term corporate and municipal bonds can present more of a challenge. Bonds in the secondary market typically trade over-the-counter through investment brokers and dealers, and the market price will include a mark-up for the dealer's profit. Make sure the bonds you are interested in purchasing carry an investment-grade rating from an independent ratings organization, such as Moody's or Standard and Poor's.
Step

3
Place your order. If you want to buy short-term government securities you can buy them directly from the government through the TreasuryDirect.gov website. You can buy short-term government bonds as well as municipal and corporate bonds through your investments broker. If you don't already have a broker, you'll need to open an account, which involves completing a new account application. You'll need to provide personal information such as your name, address and Social Security number. You'll also have to make a minimum deposit to cover the cost of your order.
References
Resources
Tips
Diversifying your short-term bond portfolio with a number of different types and issues can help reduce your risk.
Warnings
Bonds are usually thought to be less volatile than stocks, and short-term bonds carry less risk than comparable long-term bonds, but they are not without risk. If prevailing interest rates rise, the market value of your bonds might decline. If the issuer encounters financial problems you could risk default on the interest and principal.
Writer Bio
Mike Parker is a full-time writer, publisher and independent businessman. His background includes a career as an investments broker with such NYSE member firms as Edward Jones & Company, AG Edwards & Sons and Dean Witter. He helped launch DiscoverCard as one of the company's first merchant sales reps.