Can I Apply for My Spouse's Social Security Benefits Online?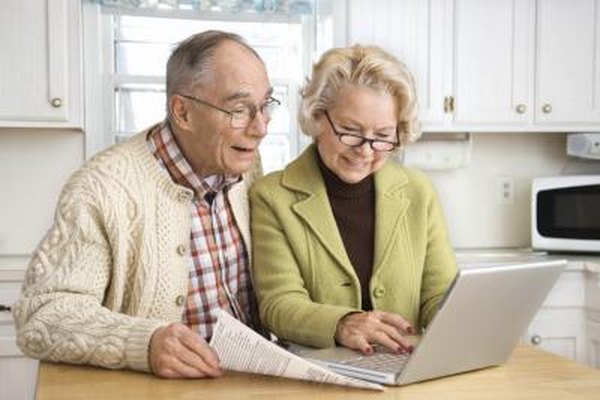 These days, it's becoming common to handle most of your financial transactions online. The Social Security Administration (SSA) has jumped on board with this trend with the "Boldly Go" program, which encourages claimants and beneficiaries to handle most of their dealings with the SSA through their website, ssa.gov. You may even apply for your spouse's Social Security benefits online if you are acting as their representative.
Retirement and Medicare
If you have your spouse's consent, you may act as his representative and apply for Social Security retirement benefits -- including Medicare -- online. The first page you will be referred to when applying -- titled "Benefit Application" -- will require you to indicate whether you are applying for yourself, applying for benefits on behalf of someone who is with you or applying on behalf of someone who is not with you. Indicate whether your spouse is with you, then fill out the requested information about yourself (select "family member" for preparer's relationship to applicant) and the information about your spouse.
Disability
It is common for those with disabilities to need help applying for Social Security benefits. As when applying for retirement benefits, you will be required to fill in the online benefits claim form, indicating that you are filing for someone else, your personal information, your relationship to the claimant and your spouse's information when you file for disability benefits on your spouse's behalf. When filing for disability for your spouse, it is critical that you prove that he is completely disabled and incapable of performing any work which he could reasonably be trained for. Many disability claims are denied. Because of this, many claimants find it helpful to consult a lawyer when applying for Social Security disability benefits.
Ex-Spouse
In many cases, divorcees are eligible for spouse's benefits through Social Security. To qualify, you must have been married at least 10 years and to have remained unmarried since your divorce (unless you remarried after age 60). Additionally, you will be disqualified if the Social Security benefits you are eligible for on your own are greater than the potential spouse's benefits. If you are qualified for spouse's benefits, you may apply for them online. An ex-spouse may also fill out Social Security applications on behalf of their former spouse if you have his permission. When doing so, you must indicate your relationship with the applicant on the online application.
Survivor's Benefits
If your spouse has passed away, you and their dependent children may be eligible for Social Security survivor's benefits. Unlike most Social Security benefits, however, you cannot apply for survivor's benefits online. This is because there are too many different circumstances which could affect whether you are eligible and the benefit amount you are eligible for for survivor's benefits to be handled efficiently online. You must apply either in person or over the telephone. Start the application process as soon as you can, because survivor's benefits are generally paid based on the date you apply for them rather than date of your spouse's death.
References
Writer Bio
Dell Markey is a full-time journalist. When he isn't writing business spotlights for local community papers, he writes and has owned and operated a small business.