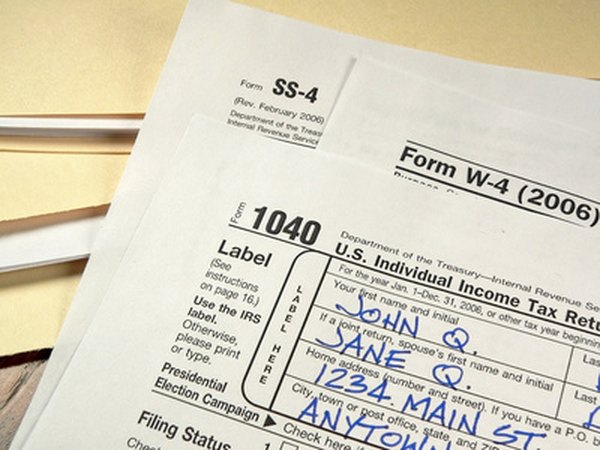 Keeping track of your tax return during processing makes sense. Whether you expect a refund or you filed an amended return, keeping current on your tax return processing helps you sleep at night. The IRS provides several tools for checking the status of an IRS tax return: an online tool, an automated phone line and a smartphone application. All information is based on the same database of information, so all tools give the same information.
Step

1
Check the Where's My Refund tool on the IRS website. Enter your tax ID number, filing status and expected refund amount. The IRS checks its database and displays your return's current status and tells when to anticipate a refund. This tool also works for visually impaired taxpayers who use the Job Access with Speech screen reader. Allow the IRS three weeks to process electronically filed tax returns for a refund. Paper returns take six to eight weeks to process.
Step

2
Download the IRS2Go smartphone application for the iOS or Android operating systems. Using the same information as the Where's My Refund tool, you can check the status of your IRS tax return directly from your smartphone.
Step

3
Call the IRS Refund Hotline at 800-829-1954. You need your tax ID, filing status and anticipated refund amount. The IRS tells you whether it's been received and when to expect your refund.
Step

4
Call the IRS at 800-829-1040 to check the status of a regular or amended IRS tax return. The refund tools mentioned earlier do not work for taxpayers with amended tax returns who anticipate a refund. You'll need to speak with an agent to check the status of your IRS tax return. Amended returns take approximately eight to 12 weeks to process. Allow the IRS sufficient time to process your returns.
Tip
Depending on how you filed your taxes, your tax preparation software can tell you the status of your IRS tax return.

The IRS publishes refund schedules for estimated deposit times depending on when it receives your tax return.
Warning
Pay your tax due when you file your return, to avoid interest charges. Interest begins to accrue beginning April 15 of the current tax year for any unpaid tax bill.