How Do I Day Trade Penny Stocks?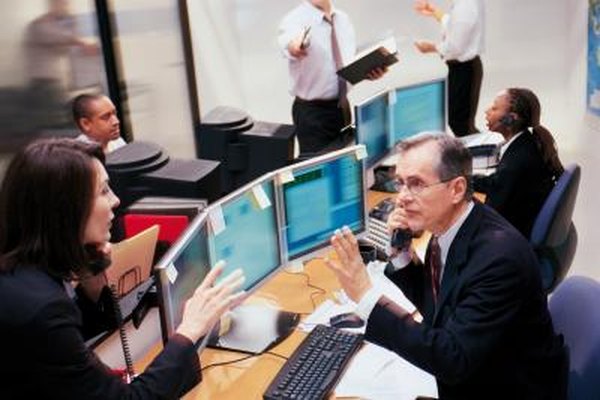 Day trading is an investment strategy to profit from short-term changes in the price of a stock or other investment. Investors can day trade penny stocks, which some experts consider to be stocks priced under $5, but is more often defined as stocks priced less than $1. Penny stocks are traded in low volume, which makes them more susceptible to manipulation and can be volatile. Day trading penny stocks invites many risks, and sudden movements in the price can produce quick profits or losses. Investors must thoroughly research and monitor penny stocks, which can be purchased through many online brokerages.
Step

1
Choose an online brokerage service to manage your account. Penny stocks aren't sold on the major exchanges and instead are found on exchanges such as the Over the Counter Bulletin Board (OTCBB) and the Pink Sheets. Choice Trade, E*Trade, Scottrade and TD Ameritrade are among the online brokers that offer access to penny stock markets. Online brokerages charge a commission for trades, but some offer discount rates for high-volume traders. Investors should also evaluate the real-time information and analytic tools offered by online brokerage services.
Step

2
Upgrade your computer equipment and Internet services to provide real-time speeds and data sharing. Because of the quick changes in penny stock prices, day traders must react promptly and can't be slowed down by inadequate computer hardware and service. Day traders often use desktop systems to set up multiple monitors that can follow several streams of information, but many laptops provide enough power to effectively run a day trading platform. Specialized day trading software can give investors more power by offering multiple news feeds, stock price tracking, and charting that alerts investors to buying and selling opportunities.
Step

3
Develop an investment strategy by researching the markets and price ranges of penny stocks that interest you. Often, day traders begin by focusing on a specific industry sector, such as energy, biotech, transportation or health care. A more advanced strategy is hedging, in which investors put in orders for the stocks at different prices to protect against market swings. Penny stock newsletters and tip sheets, such as Peter Leeds, offer investors analysis of the low-cost stocks that get only basic coverage from financial media outlets.
Step

4
Watch your penny stocks for unusual activity. Penny stocks can be easily manipulated, but when it's spotted, investors can counter manipulation by selling the stock short. Media coverage, chat room hype and even a large purchase by one investor can send penny stocks climbing. Follow a stock's beta value, and look for other indicators of volatility, which show how much a stock's price and returns fluctuate over time and serve as indicators of how the stock price could act in the future. MarketWatch recommends only trading in penny stocks that have a daily trading volume of at least 100,000 shares.
References
Writer Bio
Terry Lane has been a journalist and writer since 1997. He has both covered, and worked for, members of Congress and has helped legislators and executives publish op-eds in the "Wall Street Journal," "National Journal" and "Politico." He earned a Bachelor of Science in journalism from the University of Florida.