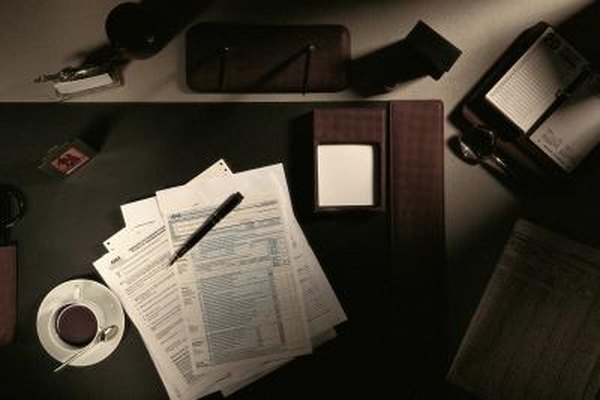 Form 1040A is a tax form used by individuals who do not qualify to use Form 1040EZ. Using this form, you can claim dependents, several types of unearned income and adjustments to your income. If you earn income from a small business or itemize your deductions, you do not qualify for Form 1040A and must use Form 1040.
Personal Information
The top portion of Form 1040A contains fields for you to enter your personal information and information about your family. Enter your name, address and Social Security number in the first few lines of the form. If you are married, enter your spouse's information in the corresponding lines. Check the box that indicates your desired filing status. If you are claiming head of household, enter the name of a dependent in the line following the "Head of Household" box. Check the boxes labeled "Yourself" or "Spouse" if either you or your spouse can be claimed as a dependent. Enter the names, Social Security numbers and relationships of each of your dependents in the "Exemptions" section. To complete the section, enter your number of exemptions in the "Total Number of Exemptions Claimed" field.
Filing Status
The filing status that you should claim on your taxes depends on several factors. If you are single and do not have children, you should file using the single status. If you are single and pay the cost to maintain a home for a child, file using the head of household status. Married couples can file as married filing jointly or married filing separately. If you file separately from your spouse, you file your taxes based only on your own income and expenses. Joint filers file taxes together, combining both spouses' income and expenses.
Income
Use the tax forms you received from your employer, investment funds and other sources of income to complete the income section of Form 1040A. Refer to Form W-2 to find your wages, salaries and tips. Refer to Form 1099-INT to determine your taxable and tax-exempt interest. Form 1099-DIV contains information about your ordinary and qualifying dividends and your capital gain distributions. To locate a distribution from an IRA, pension or annuity, look on Form 1099-R. Information for income received from unemployment compensation is listed on Form 1099-G. Your Social Security benefits are included in Form SSA-1099. Add all your income and enter the total in the line labeled "Total Income."
Adjusted Gross Income
The "Adjusted Gross Income" section allows you to deduct certain qualifying expenses from your gross income. The expenses that qualify as an adjustment change from year to year. As of the 2012 tax year, the expenses that you can claim as an adjustment include up to $250 in educator expenses, up to $2,500 for student loan interest paid and up to $4,000 for your payments for qualified tuition and fees. You can also claim up to $5,000 if you are single and under 50 or $6,000 if you are over 50 for contributions to an IRA. If you are married filing jointly, the maximum deduction doubles. Subtract your adjustments from your total income and enter this amount in the line labeled "Adjusted Gross Income."
Taxes, Credits and Payments
In the "Taxes, Credits and Payments" section, you calculate the tax you owe the IRS. Using your filing status, enter your standard deduction amount in the line labeled "Standard Deduction." Subtract that from your adjusted gross income to determine your taxable income. Use the tax table on the 1040 instructions to determine your tax and enter this amount in the line labeled "Tax." When you claim tax credits, you must prepare an additional form to calculate the credit and show proof of the amount. Credits you might be able to claim include a credit for dependent and child care expenses, education credits, credit for the elderly or disabled, child tax credit and the earned income credit. Subtract your credits from your taxable income to determine your total tax. Enter any federal income tax withheld, which you can find in Box 2 on your W-2. If you elected to have the IRS hold last year's refund to apply to this year's tax bill or made estimated payments throughout the year, enter this amount in the line labeled "Estimated Tax Payments." Your estimated payments are outlined on Form 1040-ES. Subtract your payments from your total tax to determine whether you owe taxes or receive a refund.
Finalizing Your Return
If the IRS owes you a refund and you would like your refund deposited in your bank account, enter your bank routing number and account number in the corresponding fields. Sign and date your return. If you are married and filing jointly with your spouse, your spouse also has to sign the return. If you owe tax, fill out a check or purchase a money order to cover your tax bill. Attach any additional forms used to calculate tax credits and forms containing information about your income to Form 1040. Mail your tax return to the address for your state listed on the 1040A instructions.
Photo Credits
Comstock/Comstock/Getty Images