What Are the Hours for the Dow Jones?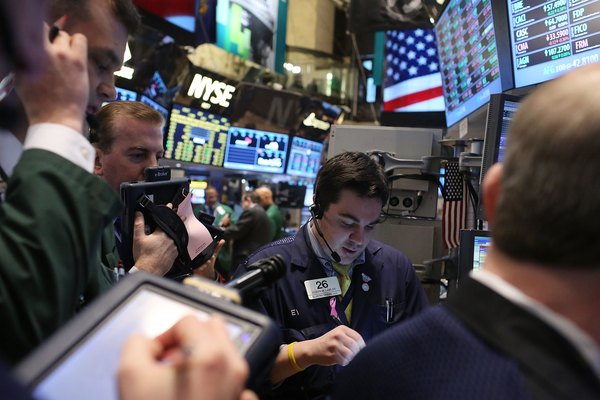 The stock market news reports often focus on the value of the Dow Jones Industrial Average, a stock market index. The Dow Jones has been tracking stock market values for more than 100 years, and whether the Dow finishes the day up or down gives investors an idea how their own stock investments performed for the day. Though trading of Dow Jones stocks is limited to the regular hours of the stock market, futures trade nearly round the clock.
Dow Jones Industrial Average
The Dow Jones Industrial Average – DJIA – tracks the share prices of 30 major U.S. companies. The Dow component stock list includes corporate giants such as IBM, Coca Cola, American Express and Intel. Although it tracks just 30 stocks compared to other indexes with hundreds or even thousands of component stocks, the Dow Jones accurately covers the overall value changes of the U.S. stock market. The Dow typically moves in tandem with the other widely followed indexes such as the S&P 500 and the NASDAQ Composite Index.
Stock Market Hours
The value of the DJIA is based on stock prices, so the index value will only change when the markets are open and prices are moving. The U.S. stock exchanges are open from 9:30 a.m. to 4 p.m. Eastern time, Monday through Friday. During the market day, the value of the Dow Jones is updated every couple of seconds. When the markets are closed, the value of the index is based on the closing prices of the most recent stock market session for the 30 Dow stocks.
Dow Jones Futures
Those prices before the market opening bell quotes you see on the news for the Dow Jones are the price of futures contracts that trade based on the DJIA's value. Futures trade almost around the clock during the work week, and when the stock markets are closed, the value of the Dow Jones futures change based on where traders think the index will open for the next stock market day. Overnight news and financial events from around the world affect the nighttime and early morning futures prices.
Futures Trading Hours
Futures trading occurs both on an exchange floor – called open outcry – and electronically. The Dow Jones futures trade open outcry from the time the stock market opens until 15 minutes after the closing bell. The electronic versions of the Dow Jones futures start trading at 5 p.m. and trade through the night until 15 minutes before the stock market opens. The electronic Dow Jones futures start the trading week at 5 p.m Eastern time on Sunday.
References
Writer Bio
Tim Plaehn has been writing financial, investment and trading articles and blogs since 2007. His work has appeared online at Seeking Alpha, Marketwatch.com and various other websites. Plaehn has a bachelor's degree in mathematics from the U.S. Air Force Academy.