Key Things to Look at in an Annual Report When It Comes to Investing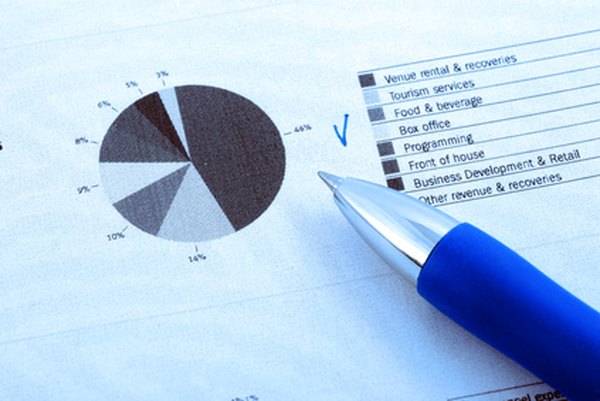 A company's annual report provides insight into its internal strengths and weaknesses and external threats and opportunities. The key things to review in annual reports relate to products, performance and people. The overview sections describe key products and services, while the management discussion and analysis and financial summary sections describe performance. The biographical information of senior management and directors reveals the background of the people leading the company.
Product Overview
Review the overview sections that describe a company's products and services. Successful companies have a dominant market position, which they seek to protect by investing in research and development. They refresh existing products and launch new products to market every year. For example, a growing technology company will be at the forefront of changes in technology standards and stay a step ahead of its competitors. A successful biotechnology company will have several new compounds at different stages in the clinical approval process, while a restaurant chain will redesign its stores and add new menu items.
Management Discussion and Analysis
The management discussion and analysis section describes the operational performance of the company over the past 12 months and outlines expectations for the upcoming year. Read this section in conjunction with the financial summary section to understand the reasons behind unusual changes in sales, expenses and profit margins. For example, a new product launch may require increased expenses in one year, but the top-line sales numbers may not improve until the following year. Compare the plans described in the previous annual report with the results in the current report to assess management's ability to deliver on expectations. Be careful of companies that gloss over potential risks, make unrealistic promises or favor marketing hype over a precise description of the facts.
Financial Summary
The financial summary section includes income statements, balance sheets and statements of cash flow for at least the two most recent reporting periods. Look for companies with positive trends in sales, costs, earnings and cash flow. Warning signs include a high proportion of liabilities to assets, shrinking profit margins and declining cash balances. These could be the result of poor management execution, too many obsolete products in inventory and the entry of new competitors in the marketplace. Strong companies have healthy balance sheets and know how to manage expenses.
Management and Board
Annual reports usually contain biographical information for senior management officers and board members. Officers should have extensive industry experience and directors should bring functional experience to their roles. For example, the chair of the audit committee of a corporate board should have considerable accounting or auditing experience. The board should have a majority of independent directors, including the chair of the compensation and audit committees. The annual report or the accompanying proxy statement should specify the management and board compensation structure. Look for compensation plans that reward long-term performance over short-term quarterly share price improvements. Successful companies usually have a low turnover of senior officers and directors.
References
Writer Bio
Based in Ottawa, Canada, Chirantan Basu has been writing since 1995. His work has appeared in various publications and he has performed financial editing at a Wall Street firm. Basu holds a Bachelor of Engineering from Memorial University of Newfoundland, a Master of Business Administration from the University of Ottawa and holds the Canadian Investment Manager designation from the Canadian Securities Institute.