What Kind of Loan Can You Get for an RV?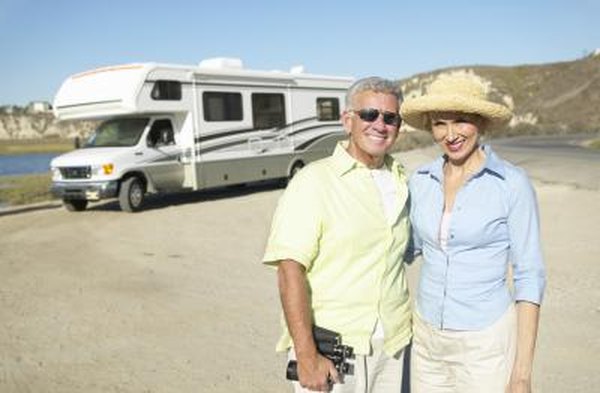 Recreational vehicles present alternatives to tent camping, hotels and cabins for short and long getaways. But an RV is also a significant up-front investment. For many, buying an RV means taking out a loan to do so. There are several loan options to consider before choosing one that gives you the vehicle and financing combination that you want.
RV Type
The loan rates available to you will depend on what type of RV you're considering. Major banks offer RV loans at reasonable rates, but the percentage you pay in interest will depend on whether your vehicle is new or used, and whether you buy from a dealer or a private party. Expect to get the best rate if you buy a new RV, with a warranty, from a dealer. Loans for buying from a private party will cost you the most in interest, though they may require you to borrow less principal for a similar RV.
Dealer Loans
RV dealers offer financing on their expensive products just like auto dealers. In-house financing is usually through an affiliated lender, but you can submit your loan application directly through the dealer as part of the negotiations. Dealer financing may qualify you for special discounts or purchase terms, so ask the dealer how financing will affect the final price. Compared to car dealer loans, RV loans though dealers are more difficult to obtain and will require more personal financial information to process.
Third Party Loans
Compare dealer loan rates and terms to those offered by credit unions, banks and independent lenders in your area. While the dealer's loan may be the most convenient to set up, it might cost significantly more over the life of the loan, even if the interest rate is only slightly higher. Your credit score will go a long way towards determining your RV loan rates. If your credit score is low, consider waiting for it to improve before taking on new debt. The higher score will also translate to a lower rate, saving you money over the life of the loan.
Special Cases
Refinancing is available for RV loans just as it is for mortgages and other loans. Refinance rates are different from the rates you'd pay on a new loan, and banks may be willing to negotiate to refinance and draw you away from another lender. RVs with high sticker prices may also qualify for special loans. For example, in 2013 Bank of America offered RV loans at 2.99 percent when the loan amount was over $150,000, compared to other RV loans that were above 4 percent when amounts were lower.