How Long Do Banks Keep Records of Checking and Savings Accounts?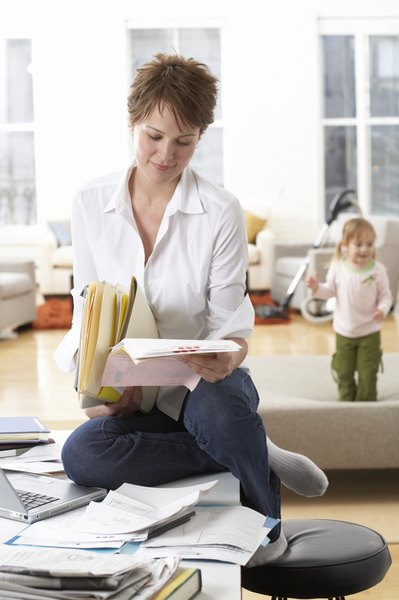 If you've ever experienced a bank error, you know how important it is to keep records of financial transactions. From checking and savings account deposits to proof that you own your accounts, retaining these documents can help you back up your claims in court or when disputing transactions with bank management. Fortunately, if you've misplaced your documents, you might be able to get a copy from the bank. Banks are required by law to keep most records of checking and savings accounts for five years.
Tip
Once you close a savings or checking account, the bank continues to keep all records associated with the account for a period of five years.
Identification Regulation
The Federal Deposit Insurance Corporation requires banks and other financial institutions to implement Customer Identification Programs in an effort to prevent money laundering. These programs mandate that banks obtain and retain checking and savings account customer data, including contact, identification and tax information. FDIC regulations stipulate that banks must keep this information for five years after the account is closed.
Transaction History
Under the Bank Security Act, banks must keep a detailed history of each checking and savings account for at least five years after the information is obtained. Banks must retain records of international transactions over $10,000, account statements, checks over $100, deposits over $100, signature cards and records needed to reconstruct transactions. While banks can keep this information in any form they choose – electronic, microfilm, original or copy – it must be easy to access if requested.
Funds Transfers
Banks must keep records of funds transfers of $3,000 or more for five years after the records are obtained, according to the FDIC. These records must include the original or a copy of the payment order, name and address of the originator and beneficiary, date of transfer, account and banking information and any special instructions. Funds transfers in which the originator and beneficiary were the same person and those in which the originator and beneficiary used the same bank are exempt from this regulation.
Suspicious Activity
If your bank has ever suspected you of suspicious activity, the Suspicious Activity Report your bank filed with the Financial Crimes Enforcement Network will remain on file for five years from the date it was reported. The bank must also keep the original business record and any other evidence of alleged fraud for five years.
References
Writer Bio
Miranda Morley is an educator, business consultant and owner of a copywriting/social-media management company. Her work has been featured in the "Boston Literary Magazine," "Subversify Magazine" and "American Builder's Quarterly." Morley has a B.A. in English, political science and international relations. She is completing her M.A. in rhetoric and composition from Purdue University Calumet.