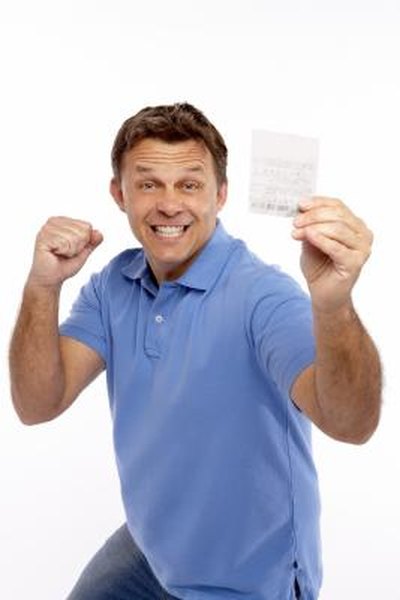 If you strike it rich at MegaMillions or another lottery available to residents of Ohio, you will have some income to declare to the Internal Revenue Service -- as well as the state and municipalities that tax lottery winnings. Tax time may prove a bit less painful with the required withholding from lottery prizes, which kicks in at $600 of winnings, according to IRS rules. The state revenue collectors figure their withholding amount differently.
Lottery Winnings and Taxable Income
In Ohio, gambling winnings are considered a part of taxable income. For this reason, a lottery winner will see withholding in the amount of 4 percent for the state from his big cardboard check. When filing a tax return, the lottery win is added to other taxable income, for which the state's top marginal rate stood at 5.92 percent as of 2012. The state also permits local tax authorities, such as cities or counties, to tax lottery winnings, although not all of them do.
Withholding Rates
The lottery authority will issue a Form W-2G for any lottery win of more than $600, which would represent income taxable by the IRS. If the win is worth more than $5,000, the state tax authority withholds 25 percent of the amount for federal withholding. Thus, a jackpot of more than $5,000 will be subject to a total of 29 percent withholding: 25 percent for the IRS and 4 percent for Ohio.
Verifications
If you win a lottery prize, you have a limited amount of time within which to claim your money. For the MegaMillions lottery, the deadline is 180 days from the drawing. Lottery officials are responsible for verifying the ticket as well as your identity with a photo ID and a check of your Social Security number. In addition, the lottery will contact the state tax authorities, as well as the child support enforcement division, and verify that you don't owe back taxes or child support. If you do, that money will be subtracted and paid out to the proper agency before you can claim your prize.
Ohio Income
Ohio imposes tax on lottery winnings earned in the state, where tax law considers that money to be Ohio "earned income." A lottery winner who moves out of state and continues to collect money, therefore, will still be subject to Ohio state taxes on the money. As long as you collect money from the lottery in Ohio, you must file Ohio state tax returns, no matter where you live.
Photo Credits
BananaStock/BananaStock/Getty Images