Stock Portfolio for Children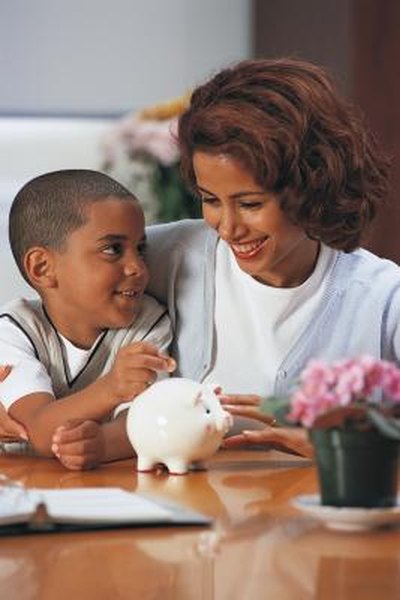 If you are looking to begin a stock investment portfolio for your son or daughter or maybe a grandchild, perhaps you want to spur their interest in investing while building a foundation for long-term future returns. With the power of dividend reinvestment and compounding, time is indeed on their side.
Direct Investment Plans
You can excite your child's imagination and make them an "owner" of Disney or McDonald's or whatever his favorite product or brand might be, something he can relate to. With a direct investment plan, some larger companies allow you to buy their stock without using a brokerage firm or paying a commission, but the service may not be entirely free. Some companies may charge a fee, and some might require that you are an employee of the company or already own stock to invest directly, says the Securities and Exchange Commission. The Direct Stock Purchase Plan Clearinghouse offers a list of U.S. companies offering such plans.
One Share at a Time
If you don't already work for or own shares in the company your child wants to invest in and can't initiate a direct stock purchase, don't give up on the idea. You have another choice. Ted Jenkin, a certified financial planner in Alpharetta, Georgia, suggests an alternative: oneshare.com. "It is a great website that allows you to buy one stock -- and you can get the stock certificate framed so your kids see it every day -- and then reinvest dividends in fractional shares along the way. I really like the idea of framing the stock so it becomes a meaningful attachment for your children. This way, during birthdays and holidays, they might consider investing in 'their company' rather than getting a gift card to a store."
For Education
If your goal is building an investment portfolio for a child's education, you should consider a 529 plan. Offered by all 50 states and the District of Columbia, your contributions can typically be invested in stock and bond mutual funds and money market funds, as well as age-based portfolios that automatically shift toward more conservative investments as the child gets closer to college age. Withdrawals can generally be used at any college or university. Though not guaranteed by state governments and not federally insured, earnings in 529 plans are not subject to federal tax, and most often also not to state tax, as long as withdrawals are used for college-related expenses.
Conventional Portfolio
If your goal is to build a nest egg for a young investor, a conventional investment portfolio of stocks, bonds, and mutual or index funds may be what you are looking for. "I would build a child portfolio no different than building an adult portfolio," says Richard E. Reyes, a certified financial planner in Maitland, Florida. Reyes suggests "a globally diversified portfolio of index funds -- and rebalance the portfolio throughout the year in order to maintain the same constant allocation." Such an investment strategy may not be quite as much fun for your child as seeing a stock certificate on the wall, but it can be a prudent investment plan for long-term growth.
References
Resources
Writer Bio
Hal M. Bundrick is a Certified Financial Planner(TM), writer, entrepreneur and former financial consultant and senior investment specialist for two leading Wall Street firms. He has written for trade magazines, newsweeklies, and leading websites including Forbes.com and TheStreet.com.