Veterans Benefits and Domestic Partners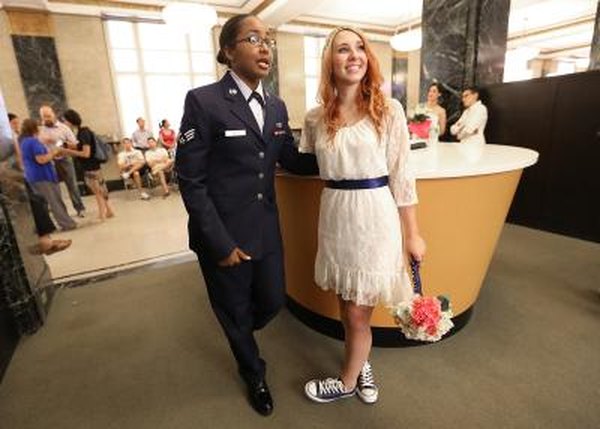 Despite the 2011 repeal of the Department of Defense's "don't ask, don't tell" policy, which banned gay, lesbian, bisexual and transgender members of the armed forces who revealed their sexual orientation, the Defense of Marriage Act kept their spouses from receiving family benefits. In United States v. Windsor, the United States Supreme Court ruled in June 2013 that part of DOMA violated the U.S. Constitution, paving the way for all military personnel, veterans and their spouses to qualify for access to veterans' benefits.
Defining "Domestic Partner"
The term "domestic partner" has become widely associated with the LGBT community, but the term formally designates two people who form a committed couple without marital status, including unmarried male-female couples. When this designation confers rights, it does so on a state-specific basis. Some states refer to domestic partners by other terminology, including "reciprocal beneficiaries" in Hawaii. The term "civil union" describes a legally recognized relationship between same-sex partners, but one that stops short of conveying the legal benefits of marriage.
Changing Perspectives
California extended veterans' benefits to LGBT veterans and their domestic partners in 2009 on the basis of a decision by the state's attorney general. Before the Supreme Court ruling against DOMA, Defense Secretary Leon Panetta announced in February 2013 that married LGBT couples qualified for the same spousal and dependent benefits formerly reserved for heterosexual couples. By October 2013, new Department of Defense policy mandated that federal systems accept benefit filings from same-sex partners of active-duty, Reserve, National Guard or retired military members.
After DOMA
Following the Supreme Court's decision in United States v. Windsor ruling one section of DOMA unconstitutional, Veterans Affairs Secretary Eric Shinseki offered support for legislation that would provide military benefits to all married couples regardless of their sexual orientation. U.S. Attorney General Eric Holder announced in September 2013 that the Veterans Administration would begin making benefits available to gay married couples because President Barack Obama had instructed the executive branch of government to stop enforcing DOMA. Holder's announcement applied to same-sex married couples, widows and widowers who resided in states that recognized their unions.
The Picture for Partners
Although gay couples can file federal tax returns in any state, married LGBT veterans appear to face loss of benefits if they live in states that don't grant legal status to same-sex marriages, or if their unions constitute domestic partnerships instead of legal marriages. The extension of veterans' benefits to LGBT spouses may face further clarification through court actions or additional changes in the law. Meanwhile, for same-sex married couples, the biggest impediment to enrollment in benefits programs remains red tape.
References
Resources
Writer Bio
Elizabeth Mott has been a writer since 1983. Mott has extensive experience writing advertising copy for everything from kitchen appliances and financial services to education and tourism. She holds a Bachelor of Arts and Master of Arts in English from Indiana State University.