How to Assign Insurance Benefits to Pay For a Funeral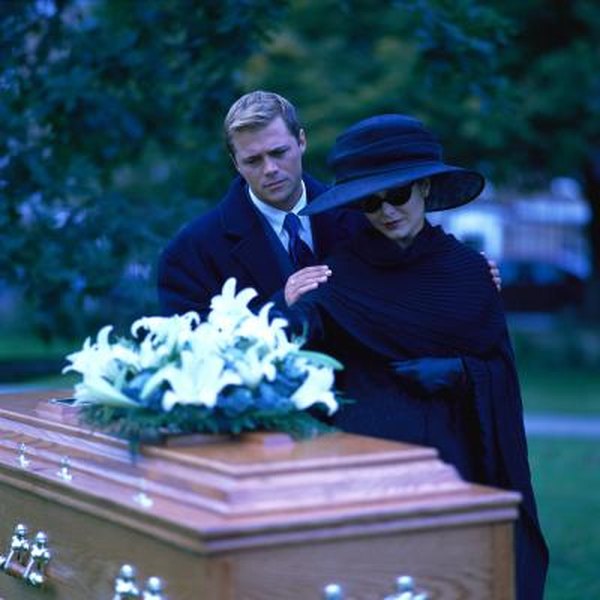 The price of a funeral has increased significantly since the National Funeral Directors Association began collecting statistics in 1960. Back then, the average cost of a funeral, minus the cemetery plot or crematorium fees, was $708. In 2012, that figure was closer to $7,045. Paying for a funeral can be a burden for family members, so many people choose to use a life insurance policy to secure funeral payments.
Policyholder Assigns the Payments
When you choose to assign benefits directly to a funeral home, you maintain the right to choose where your service will be held. When you name the funeral home as the beneficiary of your policy, the costs are prepaid, leaving family members with little or no responsibility for payments. As the policyholder, you make the funeral home the primary beneficiary of your policy with any proceeds left over targeted for the next beneficiary on the policy. You make this assignment through your life insurance company.
Beneficiary Assignment
A beneficiary of a life insurance policy can fill out an assignment form at the funeral home, which will allow payment of the settlement to go directly to the funeral home. Again, any money left over is given back to the beneficiaries named once the funeral expenses are settled. Typically, the forms needed for a beneficiary assignment are available through the funeral home directly or you can ask your life insurance agent to provide you with the necessary documentation.
Caveats for Assignments
Once you decide on a beneficiary, it's up to that person to assign the life insurance proceeds over to the funeral home. If the beneficiary decides not to participate in the funeral financially, he can keep the proceeds of the payoff, so if your intention is to use your life insurance policy to pay for your funeral expenses, either make the funeral home the beneficiary or choose a trustworthy beneficiary who will follow your wishes. At the same time, use only a reputable funeral home for direct payments from your policy – one that has been around for a while and is run by an experienced family or corporation.
Pre-Pay Options
Instead of relying on an insurance policy, you can take other measures to ensure your funeral expenses will be paid for by opening a pre-paid account directly with a funeral home. The home will set up a payment plan to which you make monthly payments. While the funds will not earn interest like a money market account earmarked for final expenses, you are assured the money goes where you want it to. For example, your savings will go to your estate, which may or may not want to pay for your expenses. Additionally, your estate may get held up in court, leaving family members on the hook for paying the funeral home.
References
Writer Bio
Linda Ray is an award-winning journalist with more than 20 years reporting experience. She's covered business for newspapers and magazines, including the "Greenville News," "Success Magazine" and "American City Business Journals." Ray holds a journalism degree and teaches writing, career development and an FDIC course called "Money Smart."