What Is a Cash Allowance When Buying a New Car?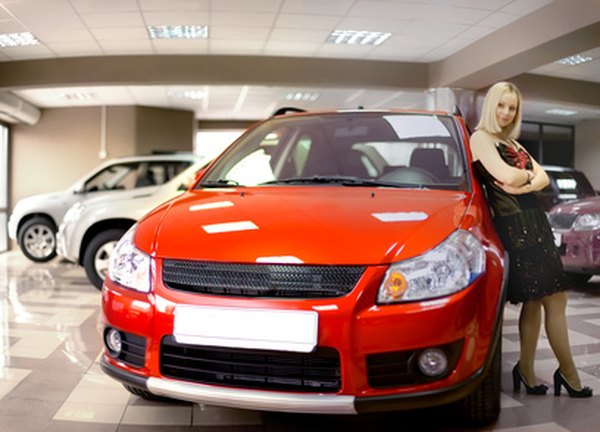 Buying a new car can be fun, but it can also be stressful. You want a reliable car and you also want a good deal. Many car dealerships offer a "cash allowance" in order to sweeten the deal. A cash allowance is a price reduction designed to be applied at the time of the sale. It is used as an incentive to get shoppers to drive away with a new vehicle.
Tip
When buying a car, you may be offered a cash allowance. This is discount taken off the sales price of the vehicle, bringing the total amount owed to a more affordable price.
Sales Booster
Cash allowances are designed to boost sales of vehicles that might otherwise sit on the lot for long periods of time. When you agree to buy a car advertised as eligible for a cash allowance, the allowance amount is lopped off the suggested retail price when the contract is signed. Some dealerships give shoppers a choice between a cash allowance/rebate and a reduced financing rate. The shopper's credit rating plays a big part in which, if any, incentive you get. In many cases, these allowances are limited to "qualified" buyers, a term used to describe people with excellent credit.
Reduced Inventory
Cars on the showroom floor for six months or more are particularly good candidates for cash rebates. If you see advertising or signage offering a cash allowance, act quickly for the best selection. Otherwise, you might wind up with fewer choices. Most rebates carry an expiration date that usually lasts one or two months. When an incentive program expires, the dealers don't necessarily renew them immediately. Cash allowance promotions also can trigger a response from competitors, which means you might be able to find similar deals on similar vehicles at other car dealerships in the area.
Trendy Extras
Bells and whistles such as technological and decorator touches usually come with hefty price tags. If the car you want is advertised with a cash allowance, you can use the money you save to upgrade cloth to leather seats, add a GPS system or the latest audio system while staying below the original selling price posted. By the way, not every cash allowance program is broadcast to the public. So it pays to ask for one, even if there are no signs hanging on the dealership's window.
Buyer Beware
It is important to know, however, that some cash allowance offers sometimes mask scams designed to trick buyers into choosing cars the dealership is desperate to move. Beware of dealers who promise to mail cash allowance checks rather than reduce the price on the spot. You should also be on the lookout for dealers who jack up the price of a car a certain amount, then offer that same amount as the cash allowance. You end up paying the full amount, even though the dealer makes it look like you're getting a deal. You can protect yourself by checking the "sale" price against price estimates published by major car publishers like Edmunds.com or Kelley Blue Book. You can also do a Web search on particular dealers to see if they have been linked to fraudulent activity. Or contact consumer organizations like the Better Business Bureau to see if any complaints have been lodged against the dealer.
References
Writer Bio
Based in Chicago, Gail Cohen has been a professional writer for more than 30 years. She has authored and co-authored 14 books and penned hundreds of articles in consumer and trade publications, including the Illinois-based "Daily Herald" newspaper. Her newest book, "The Christmas Quilt," was published in December 2011.