How to Claim Fence Damage on Homeowners Insurance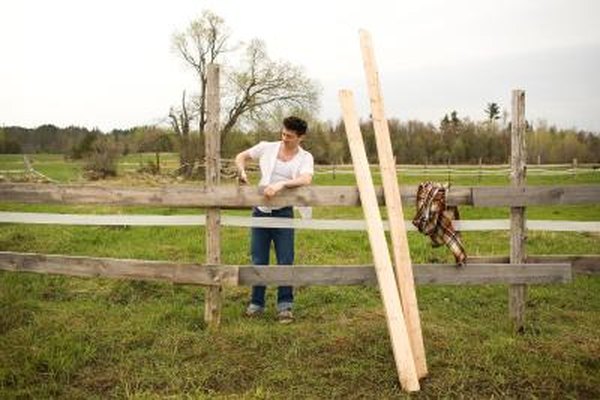 The "other structures" section of your homeowner policy is where you find coverage for gazebos, playgrounds, detached garages and fences. Most policies cover them automatically, but within the same limits as coverage on your house. Your house isn't protected against flood damage, for instance, so neither is your fence. Check that the damage is covered before you call your agent.
Document
Take photos or video of the fence damage before you do anything else. Your insurer won't accept your word that the fire, storm or car-crash leveled the fence without proof, especially if you have to make emergency repairs. If it's a car accident, the driver or the police will probably move the car soon enough, so don't delay recording the accident. If you have a time-stamp for photos in your camera, use that for extra evidence.
Assess
You have a couple of weeks after the incident to file a claim, the National Association of Realtors says, so don't call your agent immediately. The claim goes on your record even if there's no payout, and too many claims can raise your premiums or get your policy cancelled. If you have, say, a $1,000 deductible, there's no point in calling your insurer about $500 in damage. NAR suggests that even if the damage is somewhat over the deductible, it might be worth paying for repairs yourself.
Contact
If you decide it's worth filing a claim, call your agent. Even if someone else caused the damage -- your neighbor's tree fell on the fence, say -- you call your insurer. The company can sue the neighbor later if chooses. Ask your agent for the insurance adjuster's number and name and meet the adjuster when he shows up to inspect the damage. Present copies of your photos and any repair estimates you've received. Keep a history of all your conversations and file it with any email or letters from the company.
Payment
Your insurer may mail you a partial payment up front, then the rest of the money after you've completed the repairs. If it offers you a final payment that's less than you think is fair, or refuses your claim completely, it has to give you a reason. If you disagree with the rejection, talk with the adjuster or your agent. Bringing in a second adjuster or another contractor to give you a second estimate may help prove your case.
References
Resources
Writer Bio
A graduate of Oberlin College, Fraser Sherman began writing in 1981. Since then he's researched and written newspaper and magazine stories on city government, court cases, business, real estate and finance, the uses of new technologies and film history. Sherman has worked for more than a decade as a newspaper reporter, and his magazine articles have been published in "Newsweek," "Air & Space," "Backpacker" and "Boys' Life." Sherman is also the author of three film reference books, with a fourth currently under way.