How do I Deal With Retirement Accounts During an Economic Crisis?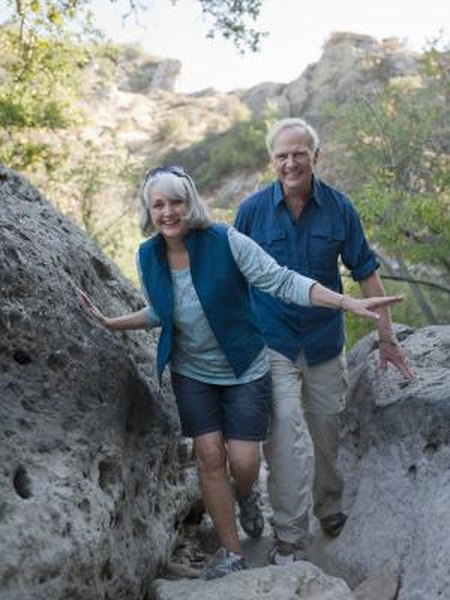 Given the many economic crises the U.S. has experienced throughout its history, investors may be understandably unsure about how to treat retirement accounts in times of uncertainty. When the stock market plunges, it can be difficult to think clearly about the best approach you can take to protect your hard-earned retirement savings. Preparation is key, so that when an economic crisis hits, you have already considered how to best react to the situation. Plan now and you'll thank yourself once the crisis is past.
Be Patient
The stock market is prone to overreaction. If stocks or stock mutual funds plunge during an economic crisis, it is best to resist the urge to join in the giant sell-off. Waiting to sell assets will instead allow the panic largely to clear out of the market and let prices readjust. If you are already in retirement and therefore depend on selling assets for your income, sell only what you need to maintain your income. Hold your other assets until prices once again begin to rise.
Buy When Stocks are Low
Although a stock market plunge may seem like a negative event, it is actually a huge opportunity for the savvy investor. Think of it as a fire sale on stocks. By buying when prices are low, you may be able to take advantage of these low stock prices to load your retirement accounts with securities that have potential to skyrocket once the economic crisis is past. You can reallocate your current contributions or even shift past retirement savings from one vehicle such as bonds to stocks. Unless you are particularly knowledgeable about a certain company stock, stick with stock index funds to mitigate the risk.
Increase Retirement Saving
If your income drops during an economic crisis, you may qualify for new types of retirement accounts, such as a Roth IRA. As of 2013, the phase-out range of the Roth IRA for married couples filing jointly was $178,000 to $188,000. If you drop under this range and can spare funds for extra retirement savings, it could be a good time to take advantage of new account possibilities. Even if you don't qualify for new retirement accounts, increasing your saving during this time will help you take advantage of low stock prices.
Prepare for Future Crises
Good retirement planning means preparing for future economic crises. If you are still decades away from retirement, you have plenty of time to ride out an economic crisis and can stay heavily invested in stocks. As you age, however, a higher and higher percentage of your savings should be in bonds rather than stocks, as much as 50 percent. This will protect you from having to sell at a time when stock prices may not be advantageous. You might also consider other investments that offer more stability than stocks, such as annuities or inflation-protected bonds.
References
Resources
Writer Bio
Based in Wisconsin, Courtney Ryan has been writing since 2005. She has been published in "The Motley" literary magazine and has provided private research for various businesses and organizations. With a background in education and economics, Ryan holds a Bachelor of Arts in English from Spring Hill College and a Master of Arts in the social sciences from the University of Chicago.