Environmentally Responsible Mutual Funds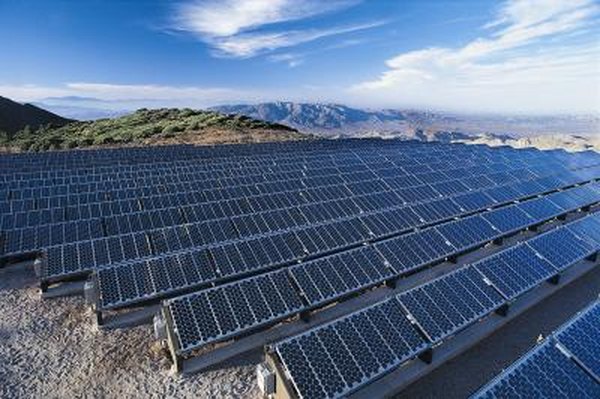 Environmentally responsible mutual funds invest in companies that meet a broad definition of being green. While each fund varies in its holdings, you'd typically find them owning alternative energy companies instead of fossil-fuel producers. Many funds also hold non-energy-related companies that have established their environmental credentials. Investors frequently buy these funds out of a desire to achieve social change with their money.
Alternative Energy
Given that alternative energy is a rapidly growing industry, it can offer opportunities for gains. For example, the Guinness Atkinson Alternative Energy Fund invests in companies that do at least 50 percent of their business in alternative energy. As of 2013, more than 75 percent of its holdings were in wind and solar energy, including companies like SunPower, Vestas Wind Systems and JA Solar Holdings.
Environmental Technologies
A broader green fund blends energy generation with other environmental businesses. A fund like the New Alternatives Fund adds companies such as Johnson Controls, which makes batteries for hybrids and advanced control systems to make buildings greener. It also owns shares of insulation-maker Owens Corning, water utility American Water Works and FuelCell Energy, Inc.
Green Funds
Green funds don't just have to own companies that are directly related to the environment. For example, as of 2013, the Shelton Green Alpha Fund's No. 1 holding is First Solar. However, other companies in the fund's top 10 include Qualcomm, United Natural Foods and Google. All of these companies have strong environmental track records. While the performance of these funds varies, research from the AperioGroup indicates that greening a portfolio by excluding fossil-fuel companies carries an estimated return penalty of 0.0034 percent.
Considerations
Green investment funds are part of a larger movement called socially responsible investing. SRI funds don't just look at a company's environmental footprint. They also look at factors like whether it's involved in the tobacco business or making weapons. Some socially responsible funds also get involved in shareholder advocacy, using their holdings to attempt to influence corporate policies.
References
Writer Bio
Steve Lander has been a writer since 1996, with experience in the fields of financial services, real estate and technology. His work has appeared in trade publications such as the "Minnesota Real Estate Journal" and "Minnesota Multi-Housing Association Advocate." Lander holds a Bachelor of Arts in political science from Columbia University.