Investing in 3-D Printer Stocks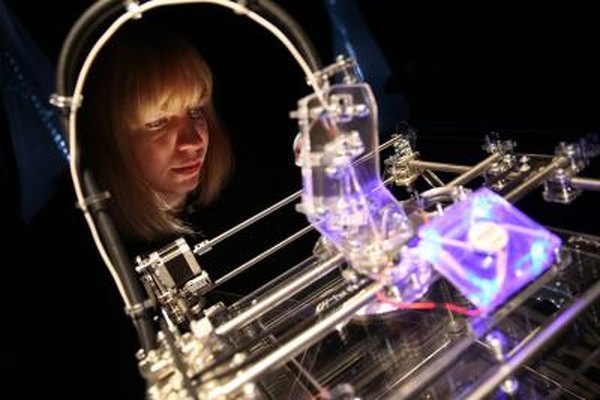 3-D printers function a lot like paper printers in that a printer receives instructions about what to print. But 3-D printers create a three-dimensional object instead of a two-dimensional paper printout. Because of the youth of the 3-D printing industry, investing in 3-D printer stocks can be highly speculative.
3-D Printing
In 3-D printing, three-dimensional objects are created through the stacking of layered materials, such as plastic resin, on top of one another until a desired shape or object is formed. Objects such as dolls, prosthetic ears, guns, sandals and even car replicas have been created using this ground-breaking technology. As the 3-D printing industry continues its evolution, the practical uses for such printing will grow along with it.
What to Look for as an Investor
You will want to find publicly traded companies whose core business model is a particular facet of 3-D printing. This information can be found in the company description of a stock quote. 3-D printer stocks are classified as part of the tech industry, which is something to consider when devising an overall stock portfolio of diversified industries. As an investor, you will want to select 3-D stocks offered by companies with solid growth prospects, meaning companies with consecutive years of increased profitability.
Aspects of the 3-D Printing Industry
As an investor in 3-D printer stocks, you must decide what aspect of the 3-D printing industry you want to invest in. If you want to invest in the growth of 3-D printing hardware, you might look for companies that strictly manufacture 3-D printing hardware. If you're interested in the digital and software development side of 3-D printing, invest in companies that provide those digital solutions.
Publicly Traded 3-D Printer Companies
3D Systems Corporation (NYSE:DDD) is a consumer technology company that manufactures 3-D printing tools and hardware, while Stratasys (NASDAQ:SSYS) manufactures 3-D printers in addition to creating production systems and other digital solutions. Autodesk (NASDAQ:ADSK) is a company involved in the digital software side of the industry and creates 3-D printing design software. ExOne Company (NASDAQ:XONE) produces and markets its 3-D printing products to industrial clients in the aerospace, automotive and energy industries.
References
Writer Bio
Shaun Hoyes has been a finance writer and blogger since 2011 with a specialty in investments. Hoyes is a financial advisor at a registered investment adviser (RIA) based in Fort Lauderdale, Fla. He holds a bachelor's degree from the University of Miami and a master's degree in business administration.