How to Leave a Roth IRA to a Grandchild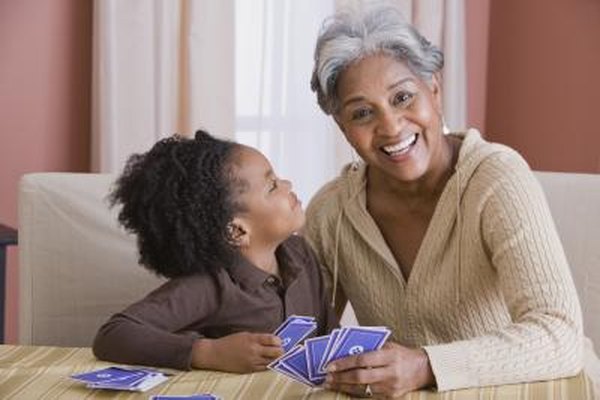 You need never take distributions from a Roth IRA for as long as you live. In addition, distributions to beneficiaries are tax-free, as long as the account has been open for five years. Therefore, the Roth makes an excellent wealth transfer vehicle.
Spouse Beneficiary
A spouse is the only class of beneficiary who can roll the proceeds of an inherited Roth into her own Roth IRA and thereafter treat the funds as her own. While your spouse lives, she can keep making contributions to the Roth and allow the assets to continue to grow without having to take withdrawals.
Spouse Beneficiary Designation
Name your spouse as beneficiary by entering her name on your IRA beneficiary designation form. You will also need her Social Security number and possibly her birth date to complete the form. You can change your beneficiary designation at any time by filing an updated form. After you die, your IRA trustee honors only the most recent designation form.
Grandchildren as Beneficiaries
Your spouse will, in turn, need the names and Social Security numbers of your grandchildren to name them as beneficiaries. Your spouse may also direct the Roth IRA trustee to divide the Roth proceeds, so that each grandchild holds assets in his own separate inherited IRA and can, subsequently, draw them down according to his individual life expectancy. If the proceeds are not divided into separate inherited Roth accounts, all the beneficiaries will have to take yearly distributions according to the life expectancy of the eldest among them. If your grandchildren have not been born by the time your spouse dies, they cannot be named as beneficiaries.
Secondary Beneficiaries
Another way to leave Roth assets to your grandchildren is to name them as secondary beneficiaries while you name one of your children as primary beneficiary. Assets pass to a secondary IRA beneficiary if the primary beneficiary dies before he has inherited the Roth. Roth assets will also pass to your grandchildren if the parent, as primary beneficiary, disclaims the inheritance. Once the disclaimer is submitted to the Roth trustee, the account will pass directly to the grandchildren.
References
Writer Bio
D. Laverne O'Neal, an Ivy League graduate, published her first article in 1997. A former theater, dance and music critic for such publications as the "Oakland Tribune" and Gannett Newspapers, she started her Web-writing career during the dot-com heyday. O'Neal also translates and edits French and Spanish. Her strongest interests are the performing arts, design, food, health, personal finance and personal growth.