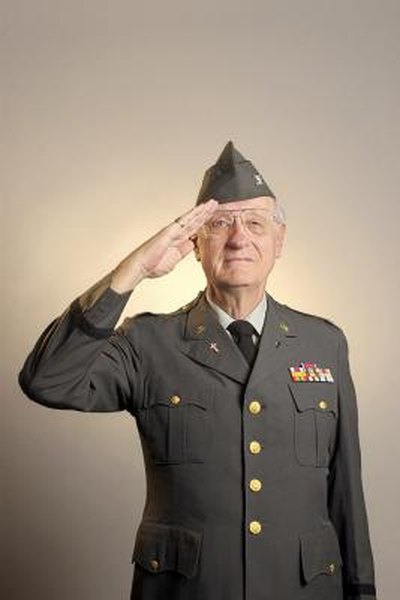 The uniforms may be different colors, but every retiring member of the U.S. military and their families receive medical benefits from a universal source called TRICARE. Every branch is covered: Army, Navy, Air Force, Marine Corps and Coast Guard. Other beneficiaries of TRICARE retiree medical benefits are the Commissioned Corps of the Public Health Service and members of the National Oceanic and Atmospheric Administration.
History
Free medical care, as offered by the military, was one of the most important benefits recruits were promised upon enlistment. The establishment of Military Treatment Facilities, or MTFs, on bases expanded the network between the early 1940s and 1956, according to a Veterans of Foreign Wars white paper. In 1966, MTF-centered care for retirees was replaced by the Civilian Health and Medical Program, or CHAMPUS. CHAMPUS covered all retiree medical expenses until Congress replaced it with the TRICARE system in 1994. This network remains in place today.
Benefits
The TRICARE program is modeled after Medicare, so if you're familiar with the way regionally managed health care systems work, there won't be any surprises. TRICARE merges state-of-the-art health resources of the Army, Navy and Air Force with private providers, so retirees benefit from a vast pool of health care providers. Base-situated medical centers offer retirees top quality care. While three TRICARE programs – Prime, Standard and Extra – are in existence, as a retiree, you automatically qualify for the best one: Prime. Since coverage is automatic and goes into effect upon retirement, you don't have to wait for your policy to kick in, and that might be the biggest benefit of all.
Prime Benefits
TRICARE Prime coverage is the medical plan with the most perks and services. Its recipients get top-notch medical care, affordable medications, rehab services, mental health services, surgeries and aftercare. Prime is marketed as a portable policy, so military members who move around the most -- active-duty military and retirees -- obtain the most benefits under this TRICARE option. But limits are imposed on moves, and not every spot on the globe can provide you with the variety of services for which Prime is known. Check before you relocate, especially if you plan to retire overseas. TRICARE Prime comes with an annual fee attached.
Negatives
Despite the myriad benefits offered to military retirees under TRICARE Prime, negatives abound. Since health care costs are based on the government's sustained growth rate formula, budget reductions can impact payouts that can cause health care providers to refuse to treat TRICARE policyholders. Ongoing efforts to force eligible retirees out of TRICARE and into the less beneficial Veterans Administration health care plan arise periodically. Base shutdowns mandated by Congress can cut military retirees off from MTFs. Given its bureaucratic structure, TRICARE also generates huge overhead costs that result in tremendous waste that could draw the attention of a Congress looking for places to cut the military budget.
The Future
With cost cuts anticipated within the Department of Defense at the time of publication, medical coverage for retired military members might be threatened. A proposed new fee system being considered would require military retirees to pay a graduated fee for TRICARE coverage. The fee amount would depend on a retiree's rank. That stated, according to the VFW white paper, other agencies served by the TRICARE network would be exempt from having to pay fees; the proposed plan would apply only to retired military.
Photo Credits
Jupiterimages/Photos.com/Getty Images