Military Medical Retirement Benefits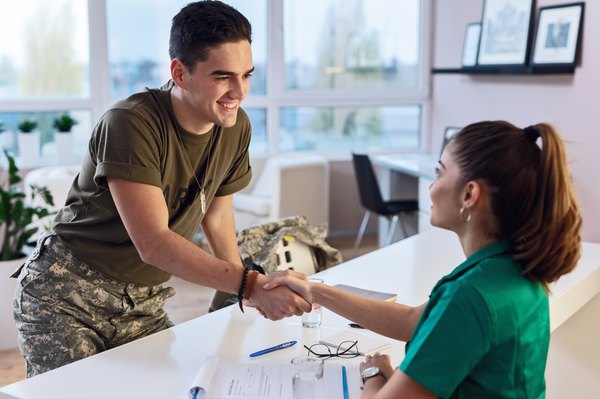 Military service is a respected sacrifice. You give years of your life for your country in exchange for pay, along with the many benefits that come with serving the United States government. One of these perks is a retirement plan, designed to take care of you once your service is complete. If your military career ends early due to a medical condition, though, you'll get something called a military medical retirement.
Tip
If you're discharged from the military due to a medical issue, you may qualify for retirement even if you didn't serve the required 20 years. This will make you eligible for full benefits, including healthcare and base privileges.
Medical Retirement Benefits and Separation
Ideally, a service member will work for at least 20 years to retire with at least 50 percent of his salary for life. However, health issues can occur without notice. If, as a military service person, you have a medical issue that interferes with your ability to work, the Physical Evaluation Board will review your case and issue a rating based on your level of disability.
If the rating is lower than 30 percent, your exit from the military will be labeled a medical separation, and you'll be issued involuntary separation pay. Unless your injury happened while in combat, the military will collect this separation pay back from you through monthly payments to the Department of Veterans Affairs. You'll also lose your Tricare healthcare benefits after six months.
Early Retirement for Medical Reasons
If the PEB rates your disability 30 percent or above, your leave will be labeled medical retirement. This designation is ideal because it entitles you and your immediate family to all the retirement benefits issued to service people. This includes your monthly pension, Tricare health insurance and military base access and privileges.
By retiring early, the military will issue the higher of either your military pension or whatever VA military compensation that would apply to you. If you're eligible for Combat Related Special Compensation, you may be entitled to additional finds from the Department of Defense.
Special Considerations for Retirement
The PEB will also look at when your disability started. If it existed before you entered the military, you'll be recommended for discharge without military benefits, assuming you still haven't reached the 20-year mark. With any disability discharge, you'll either be placed on a temporary or permanent disability list.
It's important to note that if you have 20 years or more of service in when you become unable to perform your duties for medical reasons, you'll automatically be granted retirement status. You'll be granted the same benefits you would have enjoyed if you'd voluntarily retired while still able to perform your duties, including Tricare for retirees and base privileges.
Temporary Medical Disability
Medical issues don't necessarily mean you have to remove yourself from the military indefinitely. If the committee reviews your situation and rules that your disability is temporary, you'll be placed on something called a Temporary Disability Retirement List. During this time, you'll be granted pay either as a percentage based on your disability or your years of active service.
While on temporary medical disability, you'll need to have a physical exam every 18 months to remain on TDRL status. Unless your condition improves, you can stay on TDRL for three years – or five years if you were placed on it prior to Jan. 1, 2017 – at which point you'll be rated for the Permanent Disability Retirement List. If at any time your exam qualifies you as fit to work, you'll be returned to active duty.
Reasons for Medical Military Discharge
Your condition will have a direct impact on your medical retirement benefits. The condition can be either physical or mental and must affect your ability to do your work. It also must meet the following requirements:
You must have served on active duty or duty training and have a disability rating for a condition connected to your service.
You must have either gotten sick while serving and the condition can be linked to that service, or if the condition existed prior to service, service must have worsened it.
In some cases, you'll have a condition that appeared after you served. This is called a postservice disability claim. In order to access VA disability benefits, your disease will need to meet requirements. If a condition such as hypertension, arthritis, diabetes or peptic ulcers occurred within one year of discharge, the VA will see those as service related.
In some cases, even conditions that appear years after your service may be covered under VA disability, even if you didn't take medical retirement. The list of conditions includes Hansen's disease, tuberculosis, multiple sclerosis and Lou Gehrig's disease.
Military Retirement and SSDI
If you were a civilian and disabled, you'd probably qualify to apply for Social Security Disability Insurance, a benefit that helps offset your physical inability to work. Your military status should have no bearing on whether you apply for Social Security disability benefits. If you're still active duty and receiving compensation, your pay will be factored, as it would if you were a civilian.
You can apply for Social Security disability benefits at any time following your medical separation. You may find the easiest way is to visit your local Social Security office, but you'll need to call 1-800-772-1213 to set an appointment. You can also begin the application process by visiting ssa.gov/people/veterans/.
Is Medical Retirement Tax-Free?
If you retire from the military and receive pay based on your years of service, that pay is considered taxable income at the federal level, as well as in some states. If you're receiving disability retirement pay, though, that money can almost always be excluded from your annual taxable income.
If you received your injuries as a result of combat duty, you don't have to include your disability retirement pay in your taxable income. If not, you still won't have to include it if you receive military disability instead of VA disability. The benefits you and your family receive as a result of military service also are nontaxable.
Other Disability Retirement Benefits
There's a reason to hope your request for medical separation is granted as medical retirement. In addition to the life insurance and mortgage insurance you have access to as a military retiree, you may also qualify for Service-Disabled Veteran Insurance. You and your family can also get financial aid counseling and help with preparing a will online.
In addition to Tricare for retirees, military personnel also qualify for medical care at the VA after retirement. If your disability caused a dental-related issue, you may qualify for dental care. For 180 days after discharge, veterans can have a dental exam if one wasn't conducted before they left.
Tricare and Medicare Coverage
Once you're officially retired, you'll be eligible for Tricare for retirees, which is the same health plan you had while you were active duty. One big difference, though, is that you'll now have to pay an annual enrollment fee and copays when you're treated.
However, if yours was a medical separation and you're disabled, you'll likely be eligible for Medicare, which will supplement your Tricare coverage. Even if you aren't disabled, you'll need to enroll in Medicare Part A and Part B when you turn 65 in order to keep your Tricare coverage.
References
Writer Bio
Stephanie Faris has written about finance for entrepreneurs and marketing firms since 2013. She spent nearly a year as a ghostwriter for a credit card processing service and has ghostwritten about finance for numerous marketing firms and entrepreneurs. Her work has appeared on The Motley Fool, MoneyGeek, Ecommerce Insiders, GoBankingRates, and ThriveBy30.