What Paperwork Do I Need to Sell My Home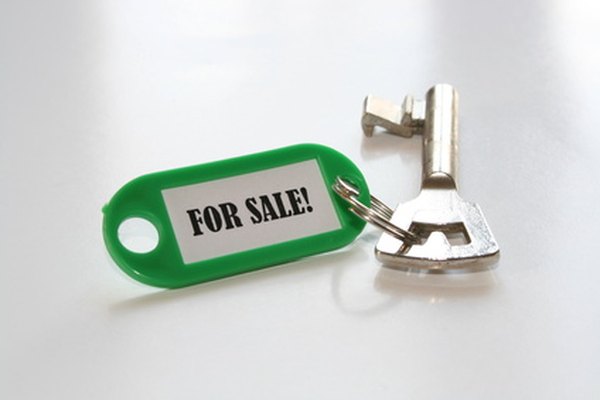 The sale of a home is a life-changing event that induces stress from all directions. A major one is gathering and organizing the paperwork you'll need for the sale. If memories of the reams of paper you waded through when you purchased your home have you concerned that you'll be inundated when you sell, be assured that documentation requirements for sellers include just a few basic forms. However, time you spend gathering some additional papers makes your record-keeping more thorough and may come in handy at tax time.
Agency Agreement
The agency agreement creates a business relationship between you and your agent. It obligates your agent to put your interests above his own and offer a higher level of service than he's required to offer consumers with whom he has no business relationship. For example, your agent must maintain confidentiality in matters that might affect your ability to negotiate, such as your financial situation and your motivation for selling your home.
Business Affiliation Disclosure
Real estate brokerages often partner with companies that provide services related to home buying and selling. Your broker must disclose the existence of such partnerships and inform you that you are not obligated to purchase these partners' services. For example, a brokerage that partners with a law office can't force you to use an attorney from that office to represent you at closing.
Listing Agreement
The listing agreement is the contract that gives the broker permission to list your home for sale in exchange for your promise to pay a commission when the house sells. In most cases, the agreement is exclusive -- that is, you agree to pay the commission regardless of who finds the buyer. The listing agreement also covers such topics as showing the home to potential buyers and marketing and advertising your home to other agents and to potential buyers.
Property Disclosure
Most states require that sellers disclose known defects in their properties as well as defects that are readily apparent in a visual inspection. The property disclosure form helps you make these disclosures by asking detailed questions about problems you've had with your property's structures and systems and the steps you've taken to correct them. It may also ask about improvements you've made and whether you obtained permits and had your work inspected.
After the Offer
A seller's net sheet shows you how much money you'll make from the sale after your mortgage balance and closing costs are subtracted from the sale price. You'll execute an agreement of sale when you accept a buyer's offer. The agreement is your contract with the buyer. It lists such terms of the sale as purchase price, inspection and financing deadlines, closing date and contingencies, which are conditions that must be met in order for the sale to proceed. The other document you'll need before you close is the closing statement, also known as a HUD sheet. The HUD sheet lists all of the closing expenses and credits and assigns each to the buyer or seller. Common costs include transfer tax. A common credit is prepaid property tax for the portion of the year the buyer will own the home.
Suggestions for Additional Documents
Copies of receipts, warranties and repair histories for your home and appliances help potential buyers evaluate your home's condition and the care you've taken in maintaining it. Records of some of these costs help you at tax time by reducing your capital gain -- your profit on the sale of the house, which is determined by subtracting the basis, or purchase price, and the cost of some types of improvements from the sale price. Reducing your capital gain may reduce your tax liability.
References
Writer Bio
Daria Kelly Uhlig began writing professionally for websites in 2008. She is a licensed real-estate agent who specializes in resort real estate rentals in Ocean City, Md. Her real estate, business and finance articles have appeared on a number of sites, including Motley Fool, The Nest and more. Uhlig holds an associate degree in communications from Centenary College.