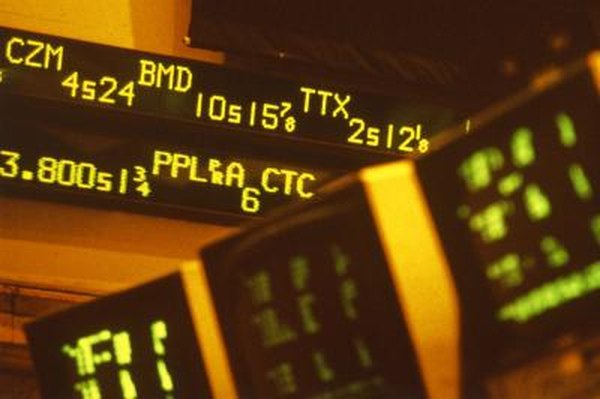 Many company stocks enter the financial markets through the penny stock exchanges. There are very few requirements to have your stock listed on the pink sheets or on the Over the Counter Bulletin Board. Companies that want to see their stocks listed on the NASDAQ or New York Stock Exchange must meet stringent requirements before they will be accepted.
NYSE-MKT Listing Requirements
In 2008, the NYSE acquired the AMEX, and renamed it NYSE-MKT. Micro cap and small-cap companies looking to jump out of the penny stock exchanges can take advantage of the NYSE-MKT's less stringent listing requirements. Companies can choose from three different listing and shareholder standards, which can help fledgling companies meet the listing criteria. For example, Listing Standard 2 requires the company have a shareholder's equity of $4 million and a stock price of $3 a share, and the market value of the public float be a minimum of $15 million. There is no market capitalization requirement.
NYSE Listing Requirements
Blue chip companies like AT&T and General Electric call the NYSE home. The NYSE looks for the best financially stable companies to join the exchange. The NYSE is the premier exchange for financial, natural resources and mining companies. Over 80 percent of American companies are publicly traded on the NYSE. The NYSE offers companies four different listing standards to help them qualify for listing. For example, Listing Standard 1 requires a minimum of 1.1 million stock shares publicly held with a minimum total value of $100 million, a stock price of $4 a share and shareholder's equity of $50 million.
NASDAQ Listing Requirements
Apple, Google and Microsoft are a few of NASDAQ's well-known stocks. Companies with a small market cap are listed on the NASDAQ Capital Market, mid-cap companies are listed on the NASDAQ Global Market and large-cap companies are listed on the NASDAQ Global Select Market. For example, companies can choose from three different requirement standards to be listed on the NASDAQ Capital Market. The minimum number of publicly held shares is 1 million with a total market value of at least $15 million, the stock price cannot be less than $4 a share, and the shareholder's equity must be at least $5 million.
Non-Financial Listing Requirements
There's more to joining one of the three exchanges than just meeting the basic financial criteria. Both NYSE and NASDAQ look closely at the public and financial market's interest in the company, the company's standing in its industry, the company's ability to maintain its financial strength and its future growth potential. NYSE-MKT considers the reputation of the company's management, its financial integrity and demonstrated earnings ability. Deficiencies in any of these areas can result in the listing requirement being denied.
Jupiterimages/Photos.com/Getty Images