Where to Sell a Gold Certificate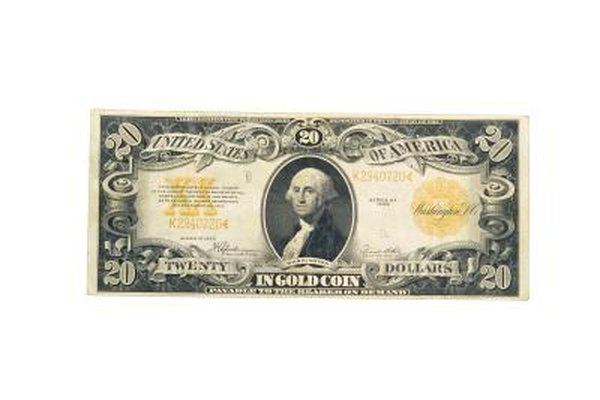 Gold certificates are a type of U.S. paper money issued in 12 series between 1865 and 1934, with face values ranging from $10 to $10,000. Until 1934 these certificates could be redeemed in gold coin at banks, but in 1934 the U.S. Treasury ended redemption in gold and ordered surrender of all gold certificates. Some survived until the Treasury ended ownership restrictions in 1964. These survivors have become collector's items.
Where to Sell
Most cities and larger towns have coin shops that buy and sell U.S. gold certificates and other old paper money. Deal only with well-established local or online dealers who have been in business for some time. Gold certificates are still valid as money at their face values, but all have collector values that exceed their face values. Gold certificates are highly sought after by currency collectors and the dealers who serve them.
Identifying Gold Certificates
Be sure you have an actual U.S. gold certificate. These notes have distinctive gold-colored seals and serial numbers on the front, and some issues also bear the words "Gold Certificate." The Series 1928 gold certificates, the last ever issued, are the same size as modern Federal Reserve Notes and have a green back. Gold certificate series before the Series 1928 issue are larger and have gold-colored backs. The obligation on these notes states that gold coins have been deposited in the U.S. Treasury that are payable to the person bearing the certificate. The wording of the obligation varies somewhat depending on the series.
Preparing to Sell
Before contacting any dealer, do some homework. Take pictures of the front and back of your gold certificate with a digital camera and upload them into your computer. Make sure your images clearly show the note's overall condition and details. Note down the series number, such as "Series of 1928," the face value of the note and the serial number. Describe any defects such as stains, folds, wrinkles, tears, holes or heavy soiling. Defects directly affect the collector value of a note. Use paper-money grading guides to help you evaluate your note's condition. Check currency collector guides to see whether yours is an exceptionally rare note.
Go to Dealers
Visit coin and currency dealers in your area so they can examine your note in person. Ask for their purchase offer. Get offers from several area dealers, if possible. Also seek offers from dealers you find online. Contact them by telephone or through their websites. In many cases, the website will have a page where you can briefly describe what you have to sell and attach digital images. Or you can email your images and description to the dealer and ask for a purchase offer.
Send Information
If an online dealer wants to know more about your note or wants additional images, provide the requested information. On rarer items, a dealer might want you to ship the note to him before he will commit to a purchase offer. This is a normal practice. Send the item by registered mail with signature confirmation of delivery. Buy postal insurance to cover the value of your note. If you decline the offer, the dealer will ship the note back to you. If your note is extremely rare and valuable, the dealer might travel to see you in person. Once you receive an acceptable offer, consummate the sale.
References
Resources
Writer Bio
Herb Kirchhoff has more than three decades of hands-on experience as an avid garden hobbyist and home handyman. Since retiring from the news business in 2008, Kirchhoff takes care of a 12-acre rural Michigan lakefront property and applies his experience to his vegetable and flower gardens and home repair and renovation projects.