What Is an Underinsured Motorist Claim?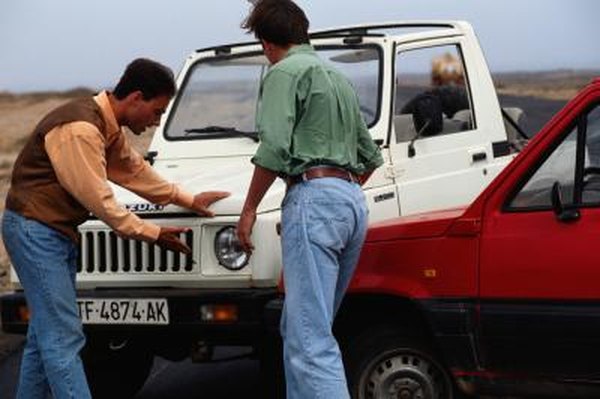 If you are involved in an accident with someone without enough insurance coverage, and you have uninsured and underinsured motorist coverage, your own policy will pick up the slack in coverage. Many states require that you purchase this coverage as a package with your auto liability policy, and it is often quoted automatically. The claims process is similar to the process for other accident claims.
Covered Claims
Underinsured and uninsured motorist coverage pays for accident damages caused by a person who either does not have liability insurance or does not have enough coverage to pay for the damage caused. Many states require this coverage as part of your auto insurance policy. In many cases, this coverage also pays for your damages if you are involved in a hit-and-run accident that is ruled not to be your fault. Your insurance company will pay for covered claims up to the policy limits.
Disputes
Determining who is at fault in an accident takes some effort. Generally, it is decided between two insurance companies, and with an underinsured driver, the other driver's insurance will participate in the process. If both parties cannot come to an agreement about who is at fault, a court may need to render that decision. In many states, arbitration is available to help determine if the other driver is at fault, and if your uninsured or underinsured motorist coverage is required to pay the claim.
Property Damage Claims
For property damage claims, if you have collision insurance, you will file a claim with your own insurance company first. Your company will usually issue a check to pay the claim, less any applicable deductible, and pursue the full amount from the other insurance company if it believes that the other party is at fault. If it recovers money, you will be reimbursed for your deductible. If the other driver is at fault and does not have sufficient or any coverage, your insurance company will make a claim through your uninsured or underinsured motorist coverage.
Personal Injury Claims
If you carry health insurance coverage, your health insurance provider will seek coverage from the person who is at fault in an accident that caused personal injury. If that person does not have liability coverage, the health insurance company may seek partial or full reimbursement from your uninsured or underinsured motorist policy. If you do not have health coverage, you will file a claim yourself with the other driver's policy if he is at fault. If he does not have sufficient coverage, you will need to contact your own insurance company to determine if you can make a claim on your own uninsured or underinsured motorist coverage. Your own insurance company may also assist you with the liability claim with the other driver's insurance company.
Financial Responsibility
If a driver is at fault for an accident, and he does not have sufficient insurance coverage, he remains responsible for the damages despite any uninsured or underinsured coverage that you carry. If your insurance company pays a claim under these policies, it can seek to recover money from the other driver through legal means. The likelihood of recovering damages depends on the assets or income that the person at fault has available.
Purchasable Coverage
Uninsured and underinsured motorist coverage is a valuable coverage, and you can purchase additional coverage for added protection. The amount of coverage, however, cannot exceed the amount of liability protection that you have with your auto policy. For example, if you have liability insurance limits of $100,000 per person and $300,000 per accident for personal injury, as well as $50,000 in property damage coverage, that is the most that you can purchase for uninsured or underinsured motorist coverage.
References
Resources
Writer Bio
Craig Woodman began writing professionally in 2007. Woodman's articles have been published in "Professional Distributor" magazine and in various online publications. He has written extensively on automotive issues, business, personal finance and recreational vehicles. Woodman is pursuing a Bachelor of Science in finance through online education.