Veterans Administration Retirement Benefits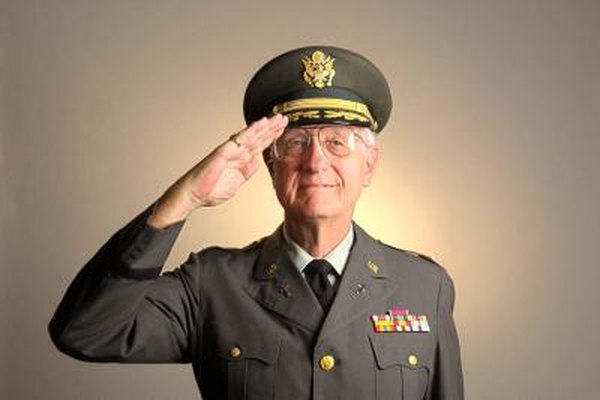 Military men and women who served in the U.S. armed forces may be entitled to retirement benefits through the Veterans Administration, or VA. These retirement benefits include pensions, medical care, housing assistance and education assistance programs. To qualify, you must meet the time-in-service requirements and be discharged with a rating other than dishonorable. If you are a surviving spouse, you and your dependents may be entitled to receive pension and educational benefits. You can learn more about your retirement benefits on the VA website and file for benefits online.
Veteran Pension Benefits
The VA offers tax-free pensions to qualified veterans. After meeting the time-in-service and discharge requirements, you must be 65 years old or older, permanently disabled, a patient in a nursing home receiving skilled nursing care or a recipient of Social Security Disability Insurance or Social Security income.
Surviving Spouse/Dependent Pension Benefits
If you are a surviving spouse, you may be entitled to a tax-free VA pension if you have not remarried and your deceased spouse qualified for a retirement pension. Your dependent child may be eligible for benefits if he is under the age of 18, permanently unable to support himself due to a disability that happened before age 18 or attending a school approved by the VA if he is younger than 23 years old.
Housing Assistance
If you are retired and totally and permanently disabled from your military service, you may qualify for VA housing assistance. For 2013, the Special Housing Adaptation Grant, or SHA, pays up to $12,992 to have an existing home adapted for a veteran. For 2013, the Special Adaptive Housing Grant, or SAH, pays up to $64,960 to have a specially designed home constructed for a disabled veteran. Both grants can be used a maximum of three times. All veterans, regardless of any disability, are entitled to use the VA Home Loan Guarantee program to obtain a home mortgage.
Medical Benefits
Qualified military retirees are entitled to medical care through the VA Health Care System. The VA has more than 1,500 health-care facilities, including clinics, counseling centers and hospitals. Veterans are classified in groups based on their time in service and service-connected disability rating. Health-care services are provided on demand, and veterans who are more than 50 percent disabled and unable to work are in the highest priority group. The VA also reimburses the travel costs to VA health-care facilities for eligible veterans.
Education Benefits
The VA has a number of educational programs designed to help retired veterans complete their education. You can use the benefits for a college education, attend a vocational training school, complete flight training or take a correspondence course. Programs such as the Montgomery GI Bill provide up to 36 months of educational benefits. The benefits pay for your tuition, books and supplies. Educational benefits are also available for your spouse and dependents.
References
Writer Bio
Based in St. Petersburg, Fla., Karen Rogers covers the financial markets for several online publications. She received a bachelor's degree in business administration from the University of South Florida.