The Average Premiums for High-Deductible Health Insurance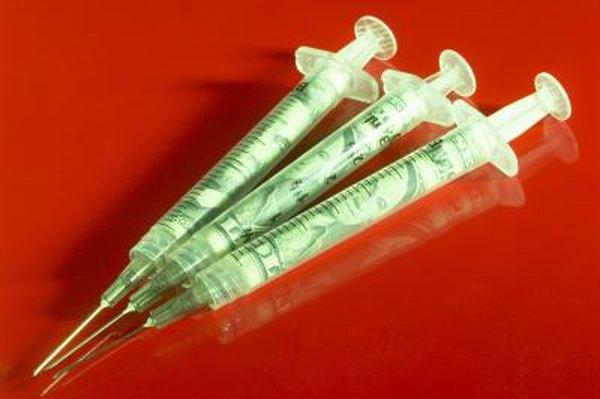 As healthcare costs continue to rise, high-deductible health plans have moved from novelty to mainstream. According to the trade group America's Health Insurance Plans, participation in a high-deductible plan increased by 1.4 million in just one year. The trend is likely to continue as people attempt to save money on premiums, and companies seek to control the costs of benefits.
Premium Amounts
According to the Kaiser Family Foundation, the average premium for high-deductible health plans as of May of 2013 is $5,306 per year for single coverage. The rate increases to $15,227 for family converge. These premiums reflect an increase of 5 percent for single coverage, and 4 percent for family coverage, over 2012 rates.
Factors Affecting Rates
The rate you pay for high-deductible health plans will vary depending on a number of factors. Individual policies, or a policy you purchase on your own and not through an employer or other group, will have a higher premium than group policies. In addition, your age is a factor in how much you will pay, with older people paying a higher rate. Premiums also vary depending on the state you live in, as each state has its own regulations, and these regulations affect how much the insurer must pay in benefits, and what type of coverage the insurer must offer.
Healthcare Savings Accounts
Healthcare savings accounts are a key benefit with a high-deductible health plan. With an HSA, you can contribute to a tax-advantaged account up to the allowed maximum, and use the money you save towards healthcare-related expenses not covered by your plan. You can claim a tax deduction for your contributions, and withdrawals are not taxed when used for allowed healthcare expenses. Any money not used each year for healthcare expenses is available for use in future years -- you do not forfeit unused funds.
Choosing a Plan
High-deductible health plans have lower premiums than more traditional health plans, but that is not the only consideration you have when choosing a plan. With a high-deductible plan, you could be faced with a large, sudden expense if you get sick or are in an accident. You can deposit the difference you save in premiums with a high-deductible plan in an HSA to offset this risk. If you do not have a reserve in a savings account, or have difficulty saving money, you could be better served with a more traditional health plan.
References
Writer Bio
Craig Woodman began writing professionally in 2007. Woodman's articles have been published in "Professional Distributor" magazine and in various online publications. He has written extensively on automotive issues, business, personal finance and recreational vehicles. Woodman is pursuing a Bachelor of Science in finance through online education.