What Budget Should I Use to Fix Up a Rental House for Renting?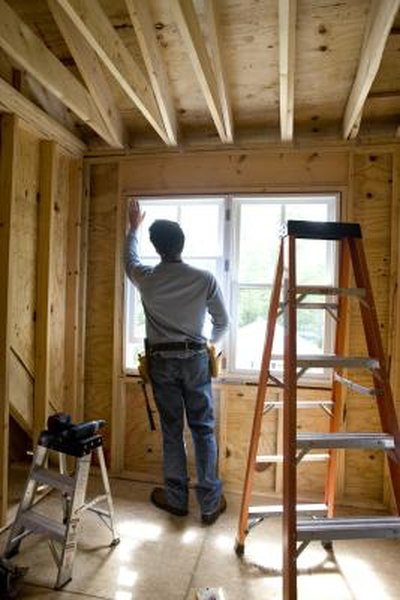 One of the biggest differences between fixing up the property you live in and fixing up a property you plan to rent out is the money you spend and what comes of that expenditure. While expensive repairs eat into your profit, good renovation work attracts tenants and raises your rent. The budget you set should balance both considerations.
Budget for the Essentials
Tenants are entitled to rental property that meets health and safety standards and is in good repair. While different states have different laws, landlords are typically required to keep the property in a safe structural condition; provide functioning plumbing, heating and electrical systems; and maintain effective sanitation. Your budget should allow for making the premises habitable in accordance with state law. Some states permit tenants to withhold the rent if the landlord does not keep up essential repairs.
Budget for Building Codes
Before you start any structural or construction work, you'll need a building permit. This shows you, your tenant and your local government agency that the work is being carried out in accordance with safety standards. Fees vary. If you are adding new rooms, expect to pay by reference to square footage. Otherwise, fees are applied on a sliding scale based on the value of the work. Different counties have different rules, so check with your local planning department.
Budget for Curb Appeal
According to property management agency The Management Group, 28 percent of tenants make renting decisions based on a property's curb appeal. That's more than one-fourth of tenants you can tempt by fixing up the driveway and yard, refreshing the exterior paintwork and repairing gates, walls and fences -- at comparatively little cost.
Budget for Looking Like You Care
The Management Group also notes that 18 percent of renters judge a property on its overall appeal. While they don't typically expect the rental to look like a show house, you'll stand a better chance of persuading them to sign the lease if windows open properly, faucets work and the walls have a fresh coat of paint. Forbes recommends visiting other properties in the neighborhood to get a feel for the kind of finishes you're up against. Keep decoration neutral, as tenants may not share your taste.
Budget for Vacancy
Your property may take several weeks to rent. Leave enough in your budget to cover the void, especially if you are paying a mortgage. A good fix-up may pay for itself in terms of rental coverage and low vacancy rates, but nothing is guaranteed. Any number of external events -- a large employer closing down, changes in mortgage interest rates -- can affect your ability to recoup your investment. If in doubt, budget low, and make sure that you have enough left in the coffers to keep you afloat if things don't turn out as expected.
Budget for the Market
All properties have a ceiling rent -- the maximum amount that tenants are prepared to pay for the property depending on its size, amenities and location. Before you set a budget, determine whether you can make money in your market. Landlords use the word "yield" to describe their profit margin. Yield measures the rate of return on your investment. It's calculated by dividing the value of the property, including all costs associated with buying it and fixing it up, by the net expected rent. The higher your fix-up costs, the lower your yield.
References
Writer Bio
Jayne Thompson earned an LLB in Law and Business Administration from the University of Birmingham and an LLM in International Law from the University of East London. She practiced in various "big law" firms before launching a career as a commercial writer. Her work has appeared on numerous financial blogs including Wealth Soup and Synchrony. Find her at www.whiterosecopywriting.com.