What if a Property Doesn't Meet Criteria for an FHA Loan?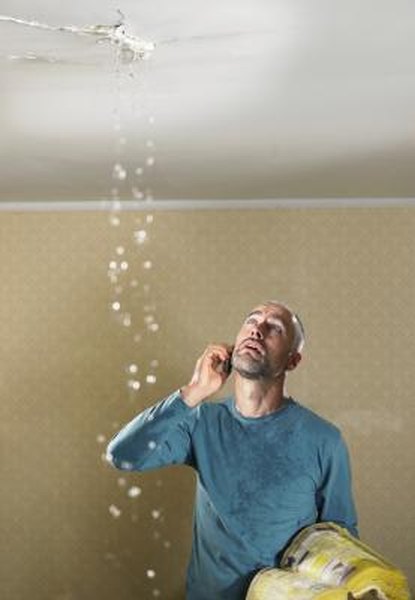 The Federal Housing Administration mortgage program offers low down payments, generous qualifying criteria, and loan limits that are, at times, higher than the conforming loan limit for a conventional mortgage. Along with those benefits, the program also comes with some unique requirements. While the FHA property condition requirements in place as of 2013 were less stringent than in past years, properties that don't meet FHA standards can be denied approval. In these instances, you still have some options.
FHA Condition Requirements
The FHA doesn't require that a home be in perfect condition to be sold. Generally, it's looking for homes that are safe enough for their occupants and structurally stable enough to last. Safety issues such as damaged paint in a pre-1978 home, bedrooms without egress, and on-site hazardous materials need to be fixed. Major systems issues, such as a leaky roof, inoperable furnace, or plumbing system with serious leaks, also will require repair. You'll also have to deal with any structural problems or serious basement leakage to qualify for an FHA loan.
Seller Repairs
The easiest way to use a FHA loan to purchase a property that doesn't meet FHA requirements is to have the seller fix it up prior to closing. Your negotiating position is relatively strong, since, if you walk away, the seller could end up having to face the same issue if the next buyer uses an FHA loan. The challenge with this strategy is getting the work done in time for your closing, if you're under any time pressure.
Standard 203(k) Loans
If you're looking to buy a fixer-upper property, the FHA has a special mortgage program that can help. The standard FHA 203(k) program lets you borrow up to 110 percent of what the property will be worth after what you fix it up. You can use the funds to pay for almost any non-luxury upgrade. The program just requires you to spend at least $5,000 on actual repairs as opposed to upgrades or cosmetic fixes.
Streamline 203(k)
If you just need to make a few repairs to get the property up to FHA standards, the 203(k) streamline program may be a better choice for you. This program is designed for smaller cosmetic projects of up to $35,000, and will even let you do your own cost estimate if you want to do the work yourself.
Homes Above the Limit
As of 2013, the FHA loan program has relatively generous limits in many parts of the country. The relatively low ceiling of $272,050 for a single-unit property can be deceiving. In high cost areas, which include many major metropolitan areas, the single-unit limit goes as high as $729,750, and outside of the continental United States, the limits reach $1,094,625. These limits are the maximum house size that you're allowed to buy; they're the maximum loan size that the FHA will make. If you want to buy a $1.5 million beach house near Honolulu, you could potentially get an FHA loan of up to about $1.09 million.
References
Writer Bio
Steve Lander has been a writer since 1996, with experience in the fields of financial services, real estate and technology. His work has appeared in trade publications such as the "Minnesota Real Estate Journal" and "Minnesota Multi-Housing Association Advocate." Lander holds a Bachelor of Arts in political science from Columbia University.