List of Things Not Covered by Homeowners Insurance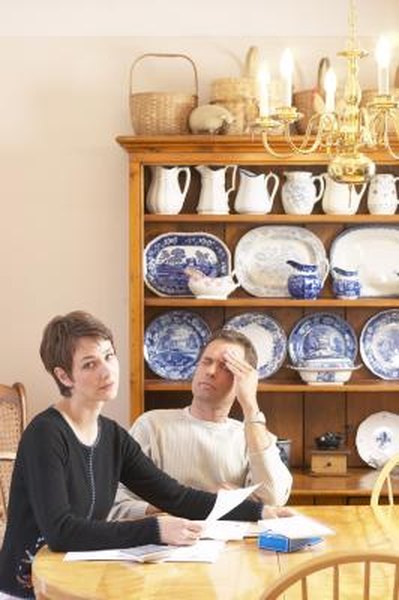 A homeowner typically buys an insurance policy before closing on a home. This is because lenders require insurance on mortgaged properties and include that cost in a monthly escrow fee that accumulates funds to pay the policy's annual premium. A standard homeowner policy, however, doesn't insure against all potential damage and separate policies might be needed to protect against some perils. Special coverage also could be needed for some items in a home.
Coverage
A standard homeowner policy, called an HO-3, covers about 80 percent of American homes against such things as fire, lightning, hail and wind on a house and related structures, some personal property in the home and liability for injury or damage to guest or visitors. It basically covers everything except things that are specifically excluded.
Earthquakes and Floods
The major exclusions on a standard homeowner policy are earthquakes, landslides or other earth movements and floods, including hurricanes. Special earthquake insurance is required, either as an add-on to a standard policy or as separate insurance. Damage from earth shifts or mudslides also is excluded as is damage from floods caused by heavy rains or storms or internal overflows of drains.
Maintenance and Insects
Maintenance and repair are excluded, including termite and other insect infestations, rot or mold, failure of equipment from mechanical breakdown or normal wear and tear. Loss from power outages, such as food in a refrigerator or freezer, also is excluded. While not likely, damage from war or nuclear hazard also is excluded.
Governmental Actions
Also excluded are costs from governmental actions, including changes required to bring wiring or construction up to building code after damage, even if the basic damage is covered. Most policies cover "actual cash value" for damage and not the cost of replacement. Increasing coverage to cover replacement cost requires an addition to a policy.
Special Exclusions
Special exclusions in a standard policy apply to expensive personal items like jewelry and furs or boats or watercraft. Standard policies limit jewelry coverage to $1,000. That's typically the limit for a boat stolen from a home, but a standard policy won't cover theft of watercraft from another location. Boats with more than 25 horsepower motors also are excluded from liability coverage.
Personal Exclusions
Homeowner coverage protects a named insured and spouse or other relatives and dependents who live in the home. This coverage includes property, personal property and liability. Personal property coverage for guests and other visitors is included only if specified in the policy at the time it's bought. Tenants or renters are excluded, usually even if living in "in-law" quarters in the home.
References
Writer Bio
Bob Haring has been a news writer and editor for more than 50 years, mostly with the Associated Press and then as executive editor of the Tulsa, Okla. "World." Since retiring he has written freelance stories and a weekly computer security column. Haring holds a Bachelor of Journalism from the University of Missouri.