Is There a Special Insurance You Need to Have With an Inground Pool Besides Homeowners Insurance?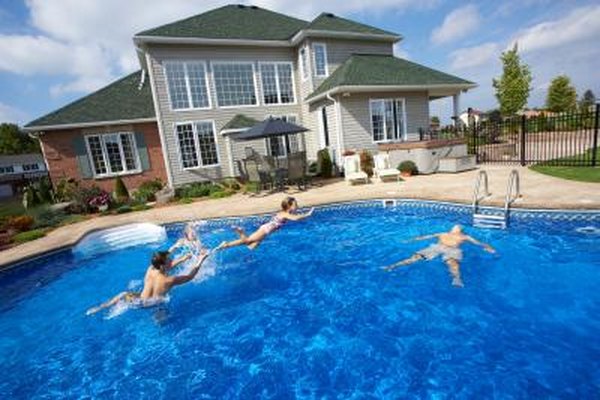 An in-ground swimming pool can be a summer recreation center. But a pool can also be dangerous and expose the pool owner to lawsuits if someone injures himself or drowns while using the pool. A homeowner's insurance policy, which provides financial protection if a disaster strikes your home, normally includes some degree of liability and physical damage coverage for pools, but pool owners are wise to buy additional coverage consistent with the greater risks that come with pools.
Separate Policy Unnecessary
In-ground pool owners don't need a separate insurance policy to cover their pool. If you install a pool, you should inform your homeowners' insurance company and increase liability coverage limits under your homeowner policy. You also may want to increase property damage limits. Standard homeowner policies typically limit personal injury liability coverage to $100,000, but pool ownership increases your liability risk, and purchasing additional liability coverage is a smart move.
How Much Coverage?
The Insurance Information Institute suggests pool owners boost their liability coverage to between $300,000 and $500,000. The amount of the rate increase for this added coverage can vary widely by company. The insurance company may require proof that your pool installation complies with local building and safety codes before providing the extra coverage.
Umbrella Policy
Home insurance companies commonly offer an umbrella liability policy as a supplement to your homeowner policy. These policies offer up to $1 million in personal liability protection for incidents at your home, including your pool, and while you are driving. The typical umbrella policy can increase your premium by $200 to $300 annually, says the Insurance Information Institute.
Physical Damage
Homeowner policies typically consider an in-ground pool a detached structure. Standard policies insure detached structures against physical damage with a limit of 10 percent of the coverage dollar limit on the dwelling. If the pool is damaged by an earthquake or other ground movement, hydrostatic pressure, floods or another peril excluded from your policy, your repair or replacement cost is not covered at all. If you have a major investment in your pool, you may want to spend extra money to buy additional detached-structure coverage plus supplemental coverage for perils normally excluded from homeowner policies, if your company offers such an option.
References
Writer Bio
Herb Kirchhoff has more than three decades of hands-on experience as an avid garden hobbyist and home handyman. Since retiring from the news business in 2008, Kirchhoff takes care of a 12-acre rural Michigan lakefront property and applies his experience to his vegetable and flower gardens and home repair and renovation projects.