Comprehensive vs. Liability Auto Insurance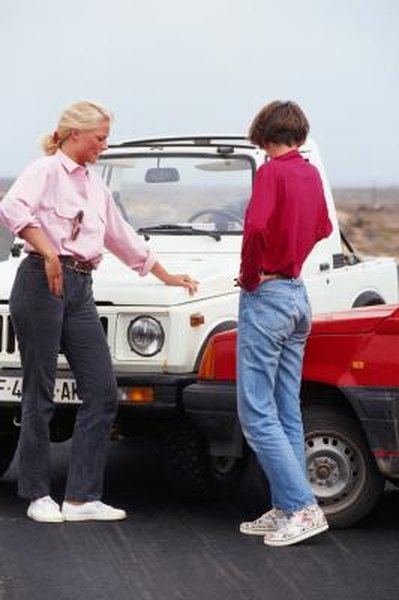 All 50 states require licensed drivers to carry a minimum amount of auto insurance coverage. If you secure financing for a vehicle, your lender may require you to have a comprehensive policy with certain coverage limits; the same is true if you lease a vehicle. A comprehensive policy involves a deductible, and a higher deductible usually means you'll pay a lower yearly premium.
Coverage
The main difference between comprehensive and liability insurance is the extent of damage that each policy covers. A liability policy only covers damage that occurs from a collision; it will cover damage to other people and their property if you're at fault. Comprehensive coverage will take care of damage to your vehicle, including damage that is not collision-related. For example, a comprehensive policy will cover a crack in your windshield or body damage from a falling tree.
Requirements
State law requires liability coverage, but it does not require you to carry a comprehensive policy. Depending on your state, you may need to carry different types of liability insurance. These include bodily injury per person, bodily injury per accident and property damage. Your policy might have different maximum limits for each type. For example, it could cover $50,000 for bodily injury per person, $100,000 for bodily injury per accident and $25,000 for property damage.
Liability
Bodily injury liability covers immediate medical expenses, including emergency care. If the injured person is not able to return to work, it will cover his loss of income. Bodily injury liability also covers medical expenses for long-term complications, funeral costs and lawyer defense fees for the policyholder. Property damage liability typically covers vehicle damage or replacement costs, and expenses for repairs to damaged buildings. It also covers repairs for other nonmoving objects such as street lights.
Comprehensive Limits
Comprehensive coverage is limited by the market value of your vehicle. Your policy may not cover the full cost of the damage if it is greater. If your vehicle is worth $5,000 but has $10,000 worth of hailstorm damage, you'll only be eligible for $5,000. Comprehensive coverage is also subject to deductibles. Your insurance company will automatically subtract your deductible amount from your claim. Using the above example, you would only be eligible for $4,500 with a $500 deductible.
References
Writer Bio
Helen Akers specializes in business and technology topics. She has professional experience in business-to-business sales, technical support, and management. Akers holds a Master of Business Administration with a marketing concentration from Devry University's Keller Graduate School of Management and a Master of Fine Arts in creative writing from Antioch University Los Angeles.