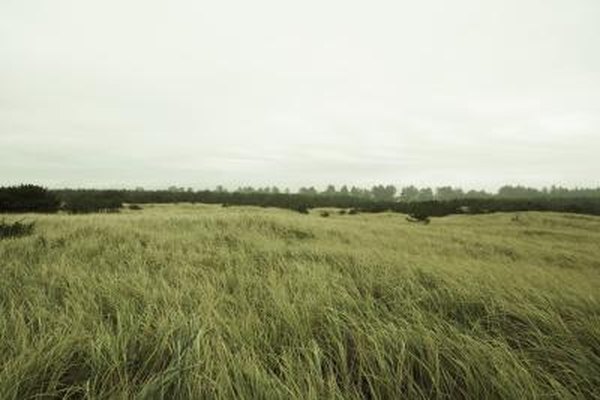 Securing financing to purchase undeveloped land is typically more difficult than securing a mortgage for an existing property because the loan's collateral isn't something that can be immediately used. To finance a land purchase, shopping around carefully will allow you to select the option that makes the most financial sense.
Type of Land
When banks consider whether to grant financing for a land purchase, one of the things they'll look at first is your plan for the lot. For instance, land that you intend on developing immediately with a home or commercial structure is much easier to finance than land that you have no intent on developing. Financing isn't impossible for unimproved land, but generally requires a much higher down payment. In addition, borrowers generally have better luck securing these loans through local banks and credit unions that are familiar with the area and local real estate market.
About Conventional Loans
Conventional loans are mortgages offered by banks and credit unions that aren't backed by the federal government. They account for a large percentage of home mortgages in the country -- but are typically not used for purchasing land. An exception occurs when borrowers opt for a combined construction and home mortgage loan to cover the cost of the land, construction and, ultimately, the home mortgage. These loans aren't available through all lenders, however, and many borrowers are wary of them because of their higher interest rates. They are also not available for land that won't be developed immediately.
Other Financing Options
While a conventional mortgage isn't likely to meet the needs of all land buyers, other options should be considered. One is a seller-financed purchase, in which the terms are set directly between yourself and the seller. If you currently have equity in a home or other property, you might also consider taking out a home equity loan to pay for the land. The advantage here is that the interest rates on home equity loans are typically much lower than those on land loans.
Considerations
Before you rush into the decision to purchase land, do your homework. First, be prepared to provide at least a 20 percent down payment, though some lenders may require more than 50 percent -- particularly for land you don't plan on improving immediately. Next, show lenders you know your stuff by presenting them with a fine-tuned plan for the land, along with proof that it meets zoning requirements. Ensuring that the land is set up for utilities is also important if you plan on building a home or business on the space.
Photo Credits
Ryan McVay/Digital Vision/Getty Images