How Long Do Homeowner Insurance Claims Stay on Your Record?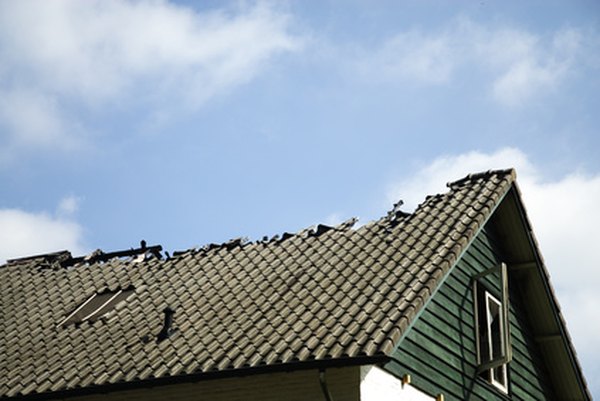 Insurance companies use scores to determine a consumer's risk in much the same way that lenders and creditors use credit scores. Various factors go into insurance scoring models, including the number of homeowner claims you file, and the number of claims on your record can make you more of an insurance risk. The length of time a claim shows on a report varies, but averages between five and seven years.
National Databases
Most insurance companies subscribe to a national database service to which insurers report consumer information. These databases allow insurance companies to get information related to any homeowner claims you file. Companies use the reported data to screen insurance applicants and rate their risk. When you file a claim, other insurance companies can find out the date the loss occurred, the type of loss, and the amount of the insurance settlement you received.
FACT Act
The Fair and Accurate Credit Transactions Act, often referred to as the FACT Act, is an amendment to the Fair Credit Reporting Act, which regulates who can access consumer information. The FACT Act gives you the right to request one free copy of your consumer insurance file each year. Insurance companies use databases maintained by consumer reporting agencies such as CLUE -- Comprehensive Loss Underwriting Exchange -- to find out whether insurance customers have filed previous claims. CLUE and other similar databases allow insurance companies to exchange consumer data involving insurance claims histories, including those relating to property loss. Under federal law, you have the right to access and dispute information contained in your CLUE report.
CLUE Records
Insurance companies load into CLUE or other databases the personal information that consumers provide. Your address gives an insurance company the lead it needs to investigate your claims history, which the insurer then uses to assess how much of a risk you are. Besides your property address and insurance claim information, the report includes additional data, such as your Social Security number, the name of your mortgage lender, and your mortgage loan number. Generally, personal property claims information remains on a CLUE report for five years from the date you report a loss. Some databases may keep claims information longer.
Claims History
Your insurance company can raise the rates for your homeowner insurance or limit your coverage if your home sustains certain types of damages. Claims that may increase your premium include those involving water damage, dog bites or falls. Use caution before submitting a loss to your insurance company, as filing too many claims can make it difficult to get homeowner insurance. Some policies also place caps on payouts. Sometimes paying costs out-of-pocket can be less expensive than the hike your premium may take if you build a history of filing small claims. Always provide complete information on an insurance application or claim form. Otherwise, a company can cancel your policy before the expiration date. An insurance company can also refuse to renew your policy after the expiration date, although the company must notify you in advance of its intent not to renew your homeowner policy.
References
Resources
Writer Bio
Amber Keefer has more than 25 years of experience working in the fields of human services and health care administration. Writing professionally since 1997, she has written articles covering business and finance, health, fitness, parenting and senior living issues for both print and online publications. Keefer holds a B.A. from Bloomsburg University of Pennsylvania and an M.B.A. in health care management from Baker College.