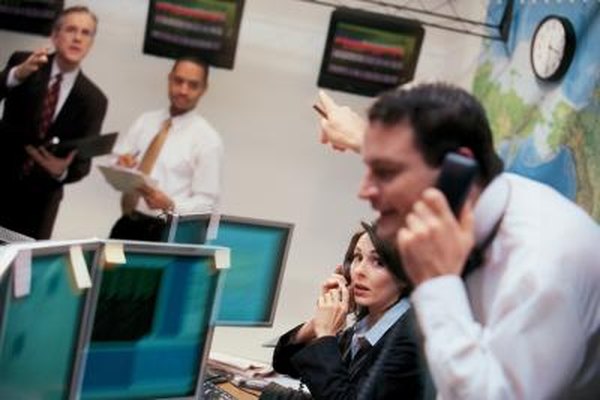 The Pink Sheets and OTC markets are home to more than penny stocks and companies delisted from major exchanges. International corporations including Adidas, BMW and Volkswagen are traded through the OTC market. In 2010, Pink Sheets and OTC markets united under the OTC Market Group umbrella. The company kept the two markets separate and classified each market's stocks into three groups based on the amount of corporate disclosures. The goal is to provide greater transparency about OTC and Pink Sheets companies and stocks. However, disclosure is voluntary and due diligence is still a must when trading OTC and Pink Sheets stocks.
Pink Sheets & OTC Order Entry
Unlike the exchanges where orders are placed electronically and immediately filled, Pink Sheets and OTC trades are routed to individual broker/dealers. The broker/dealer attempts to match your order with an existing market or limit order. If he can't place the trade, the broker/dealer tries to complete the trade with another broker/dealer. If that doesn't work, the broker/dealer creates an order and posts it on the Inter-dealer Quotation System. The order remains posted until it is filled or canceled.
OTC Listing Requirements
You must register your company with the Securities and Exchange Commission and keep your registration current to remain listed on the OTC market. In addition, you must provide financial information to the SEC and your incorporating state's banking or insurance regulator periodically. You must comply with SEC regulations and the corporate governance provisions of the Sarbanes-Oxley Act. Other than that, there are no minimum financial or quantitative requirements for being listed on the OTC market.
Pink Sheet Listing Requirements
Pink Sheets listing requirements are the easiest ones for a company to meet. You complete the basic application, select a market maker to trade your stock, provide her with your company's information and that's it. Pink Sheets companies don't have to register with or maintain their registration with the SEC. You can disclose as much or as little company information as you like. There are no minimum capitalization or shareholder's equity requirements to meet.
Halted and Suspended Trading
Despite the lax listing requirements, companies can lose their stock trading privileges on the OTC and Pink Sheets markets. If an OTC company fails to comply with disclosure regulations or if an OTC or Pink Sheets listed company engages in fraudulent, deceptive, or manipulative acts or practices, the Financial Industry Regulatory Board will halt trading. Trading remains halted for up to 10 days. Corporate owners that deceive investors, engage in deceptive practices or manipulation their stock price can face criminal penalties that include substantial fines and prison time.
Photo Credits
Comstock/Comstock/Getty Images