What Time Is NYSE Closing Bell?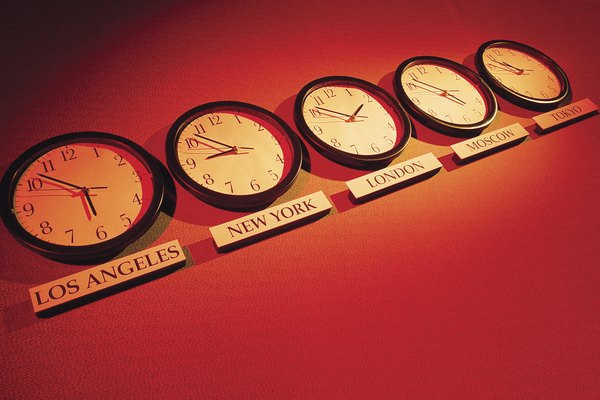 While there are round-the-clock supermarkets and 24-hour access to nearly every piece of information available on the Internet, some things still operate on a more traditional schedule. The New York Stock Exchange is one of them, and it limits its trades to banking hours. The closing bell, which signals the end of the NYSE trading day, rings at 4 p.m. Eastern time.
Tip
The New York Stock Exchange begins the trading day last 9:30 AM EST and closes the trading floor at 4 PM EST.
NYSE Trading Hours
Trading occurs on the New York Stock Exchange's floors between 9:30 a.m. and 4 p.m. Eastern time. The opening and closing bells signal the start and stop of the trading day, and are mounted in all four areas of the NYSE trading area. Operated remotely, each bell rings simultaneously. The bell system has been used since the NYSE moved to its present location in 1903. Before that, a gong was sounded to signal the start and end of the trading day.
Holiday Hours
The exchange closes its doors on nine exchange holidays each year: New Year's Day, Martin Luther King Jr. Day, Washington's Birthday, Good Friday, Memorial Day, the Fourth of July, Labor Day, Thanksgiving and Christmas Day. Shortened holiday hours are also in effect, which move the closing bell to 1 p.m., on the Friday following Thanksgiving, July 3 and on Christmas Eve. Those are the only scheduled holidays, although the exchange might close in extreme circumstances such as hurricanes.
After-Hours Trading
While the NYSE officially only operates between 9:30 a.m. and 4 p.m. Eastern each day, traders still continue to wheel and deal through the night with after-hours trading. Trades aren't as fluid after hours, however, and trades are made on a crossing-market basis: Sellers' offers and prices to sell must match buyers' requests for stocks for the trade to go through electronically.
After-hours trades were only available to institutional investors until 1999, when technology improved to allow individual investors to make after-hours trades as well.
Other Exchanges' Hours
While the NYSE's 4 p.m. Eastern closing bell might seem a little early for folks who work until 5 or 6 p.m., its trading day is comparable to some other major exchanges. The London Stock Exchange closes at 4:30 p.m. after opening at 8 a.m. London time, which is 3 a.m. to 11:30 a.m. in Eastern.
The Tokyo Stock Exchange closes for the night at 11:25 p.m. local time, which is 9:25 a.m. in New York – though it takes an hour-and-a-half break from 11 to 12:30 p.m. and a 30-minute break from 3 to 3:30 p.m, local time. The Tokyo exchange opens at 8:45 a.m. Tokyo time, which is 6:45 p.m. on the East Coast.
References
Writer Bio
Wilhelm Schnotz has worked as a freelance writer since 1998, covering arts and entertainment, culture and financial stories for a variety of consumer publications. His work has appeared in dozens of print titles, including "TV Guide" and "The Dallas Observer." Schnotz holds a Bachelor of Arts in journalism from Colorado State University.