How to Sell Treasury EE Bonds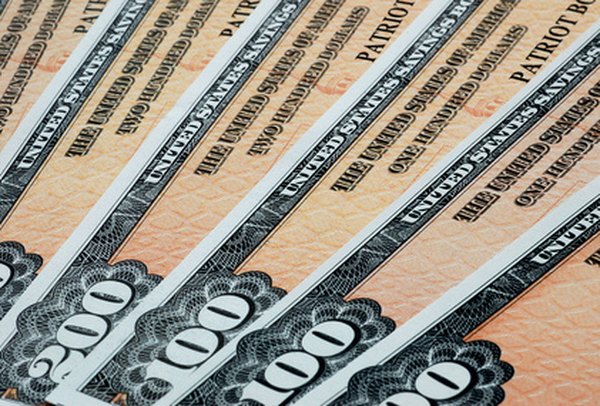 U.S. Treasury EE bonds are government debt securities that mature after 30 years. Interest is paid quarterly at either a fixed or variable rate depending on when the bond was originally purchased. You must hold EE bonds for at least 12 months before you can redeem all or part of your investment. If you hold paper bonds, you can redeem them at a local bank, or convert to electronic bonds and redeem them online. If you want to redeem more than $1,000 at a time, converting paper bonds will save you time.
Redeeming Electronic Bonds
Step

1
Convert your paper bonds to electronic bonds, if necessary, at Treasury Direct, operated by the U.S. Treasury. You can exchange any bond if you are the sole owner or co-owner. To open a new account you will need your Social Security number or other Taxpayer Identification Number, an address in the United States, a U.S. bank account with routing number, an email address and a browser with 128-bit encryption.
Step

2
Click "ManageDirect" tab. Choose "Redeem" from the "Manage my Accounts" section.
Step

3
Select the confirmation number of the bond you wish to redeem and click "Submit." On the redemption screen, choose how much to redeem, with a minimum of $25. Choose which account you want the proceeds sent to. Click "Submit." Verify the information is correct on the next screen and edit if necessary. "Submit" again.
Step

4
Print a copy of the confirmation screen and check your bank account after five days for the proceeds of the redemption.
Redeeming Paper Bonds
Step

1
Check with your own bank or credit union to see if it redeems EE bonds. Not all do, but most large full-service financial institutions offer this service. Don't sign the bonds until you're at the bank.
Step

2
Bring proof of identity such as a driver's license, passport or other photo ID.
Step

3
Ask the teller to check the value of the bond. You can only redeem $1,000 at a time in person. If the bond is worth more, the teller will have you sign the bonds, which must be sent off for redemption.
Step

4
Mail the signed bonds to the Treasury Retail Securities site for your region. The teller will have this information. The Treasury will then mail you a check for the proceeds.
Step

5
Receive form 1099-INT. The teller may issue you one at redemption, or you may receive it by mail the following January. Interest on U.S. bonds is taxable income at the federal level, though not taxed at state or local levels. The original value of the bonds is not taxable income.
References
Tips
EE Bonds sold between May 1997 and April 30, 2005, earned a variable interest rate while those sold after earn a fixed rate. Use the Treasury Direct website to help calculate the value of your bonds if you're not sure what they are worth.
If you aren't sure when youre bonds are redeemable, the Treasury Direct website has a great tool. Search by your Social Security Number to see whether bonds registered to you are available.
Register and convert your paper bonds even before you intend to redeem them to save time and easily monitor the value of the bond.
You can redeem bonds purchased from any financial institution at Treasury Direct, once you've registered the bonds to your online account.
Warnings
If you sell EE bonds you've held for less than five years, you'll be penalized the latest three months of interest. You must hold EE bonds for at least twelve months before redeeming.
Writer Bio
Naomi Smith has been writing full-time since 2009, following a career in finance. Her fiction has been published by Loose Id and Dreamspinner Press, among others. She holds a Master of Science in financial economics from the London School of Economics and a Bachelor of Arts in political economy from the University of California, Berkeley.