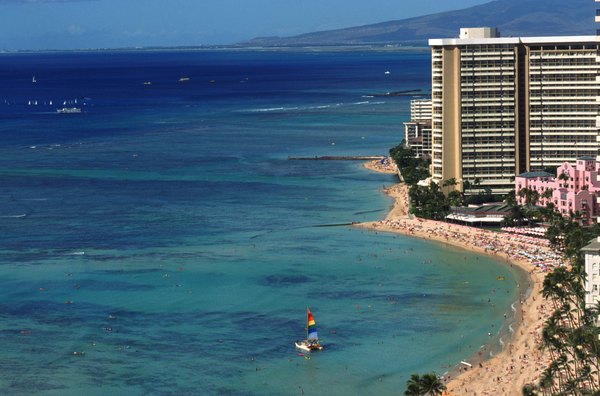 Imagine spending your Golden Years under an umbrella on the sand, looking out at the beautiful blue waters of Hawaii. The state may seem like a dream destination for retirees, but there's a reason senior citizens aren't flocking there once they stop working: cost. You can afford retirement in one of the most expensive states in the country by choosing the right location to keep housing costs as low as possible.
Tip
Hawaii has an overall high cost of living, but the state is retiree-friendly when it comes to taxes, as well as having lower-than-average healthcare costs.
Cost of Hawaii for Retirees
Despite the fact that things tend to cost much more in Hawaii than on the mainland, it's still far more friendly to retirees than you may realize. Healthcare costs, which are a huge consideration once you retire, are 11.4 percent below the national average. On top of that, you'll have access to a healthcare system that has been ranked one of the best in the country.
There are some tax benefits to retiring in Hawaii, particularly the fact that your Social Security income won't be taxed. If you get a public pension, you won't pay taxes on that, but you will pay full taxes on private pensions and withdrawals from other retirement accounts. The marginal state sales tax is on the high side, though, at 7.2 percent.
General Cost of Living
If you're moving from the mainland to Hawaii, chances are you'll find yourself paying more for just about everything. The average rent for a one-bedroom apartment in Honolulu averages more than $1,700 a month, with three-bedroom units renting for nearly $3,500. But where you'll really start to notice a difference is in the products and services you buy on a regular basis.
In Hawaii, everything from dining out to groceries costs more than you probably pay where you live now. You'll also pay more for gas and electricity. Everything you buy must be imported to the island either by water or air, requiring an additional expense that retailers often pass on to the customer.
Choosing a Location
Hawaii isn't an all-or-nothing proposition. As with any other area, you can spend a fortune to live in the most popular places, or you can save some money by getting out of the city or away from the beach. Instead of settling in Honolulu, the center of activity, focus your search on an area with a more peaceful way of living and, therefore, more affordable housing costs.
One area for retirees to consider is Hilo, found on the Big Island. You'll find that rent prices average about 50 percent less than what you'd pay in Honolulu. Kailua, located on the coast of Oahu, is also popular with budget-conscious residents, and it has plenty of great scenery and shopping.
Weather and Amenities
For those looking for a warm, sunny place to retire, Hawaii is always a winner. Temperatures in the summer range from 85-90 degrees Fahrenheit, dropping to 79 to 83 degrees Fahrenheit in the winter. You'll rarely see temperatures above 90 degrees or below 60 degrees. In most areas, you will experience only two seasons, with winter lasting from November to April and summer lasting from May to October.
Access to amenities also depends on where you choose to live. If you love the great outdoors, you'll usually have a wide selection of waterfalls and caves to enjoy within a short drive. Those who prefer shopping and museums can find areas with plenty of those, as well. In Hilo, for instance, you'll get falls, scenic drives, a zoo, a farmer's market, art galleries and museums.
References
Writer Bio
Stephanie Faris has written about finance for entrepreneurs and marketing firms since 2013. She spent nearly a year as a ghostwriter for a credit card processing service and has ghostwritten about finance for numerous marketing firms and entrepreneurs. Her work has appeared on The Motley Fool, MoneyGeek, Ecommerce Insiders, GoBankingRates, and ThriveBy30.