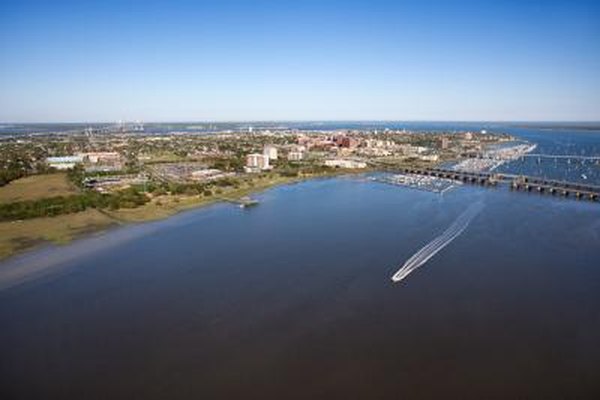 Both Savannah, Georgia, and Charleston, South Carolina, offer rich cultural histories and a heavy dose of southern charm. Retirees considering a move to either of these cities will find many similarities, including mild climate, lowcountry cuisine and easy proximity to the beach. When you're looking for the best place to stretch your retirement savings, comparing the key differences between these two towns can help you get the most for your money.
Cost of Living
One of the top concerns for many retirees when choosing where to retire is finding a place that offers an attractive lifestyle at a reasonable cost. Sperling's Best Places uses an index to compare the cost of living in various cities to the average cost of living in the U.S. Sperling's grades Savannah at a 91, with Charleston rated at 110. That means Savannah is slightly cheaper than the average location, while Charleston is slightly more expensive. Consider housing, for example. The Savannah Economic Development Authority reports that the average home price in Savannah in 2011 was $200,517, while the average home price in Charleston was $322,212 over the same period.
Taxes
Income, sales, property and other taxes can take a big bite out of your retirement savings, so finding a tax-friendly city can leave more money for fun. Kiplinger.com describes both the Peach and the Palmetto states as tax-friendly to retirees. While both states have a state income tax in place, neither taxes Social Security benefits, and both offer exemptions for other types of retirement income. In Charleston and other South Carolina cities, those over 65 enjoy an income tax exemption on $10,000 of retirement income, while retirees under age 65 could exempt up to $3,000, as of 2012. State income tax rates vary from 3 to 7 percent. Property taxes are assessed at just 4 percent of market value, and those 65 and older can claim a homestead exemption of $50,000. The state sales tax rate is 6 percent, and the city of Charleston tacks on an additional 2 percent for a total tax rate of 8 percent. Income tax rates in Savannah range from 1 to 6 percent. Those aged 62 to 64 get an exemption of $35,000, while retirees 65 and older can take an exemption of $65,000. Property taxes are assessed at 40 percent of home value, and retirees may qualify for a homestead exemption of up to $2,000. Georgia maintains a sales tax rate of 4 percent, while Savannah adds an additional 3 percent to this amount, for a total sales tax rate of 7 percent.
Demographics
The Savannah Economic Development Authority reveals that as of 2011, 23.3 percent of Savannah's population was 55 years of age or older, while the Charleston Regional Development Alliance reports that 23.9 percent of city residents were 55 years of age or older.
Climate
Though Savannah and Charleston share similar climates, Savannah residents face a slightly wider temperature range, as well as more rain, than Charleston residents. Sperling's Best Places reports that an average of 46 inches of rain falls in Charleston each year, compared to 48.8 inches in Savannah. Charleston's lowest average temperature in January is 42.1 Fahrenheit, compared to 38.9 in Savannah. In July, Savannah has an average high of 92, compared to a slightly milder 88 degrees in Charleston.
Photo Credits
Jupiterimages/Photos.com/Getty Images